Petaling Jaya, 20 February 2009 - Honda Malaysia Sdn Bhd introduced the refined Stream RSZ at a media preview today. The car now comes with full bodykit and a redesigned RSZ front grille, in addition to a host of other new practical features. The sportier and stylish 7-seater advanced MPV will be available at all authorised Honda showrooms nationwide from 26 February onwards.
From left En. Azman Idris, President & COO of HMSB, Mr. Atsushi Fujimoto, MD & CEO of HMSB and Mr. Yutaka Fujiwara, RAD of Honda Motor Co. posing with the Stream RSZ.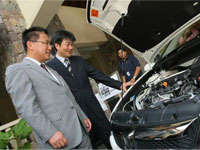 Mr. Fujiwara and Mr. Fujimoto viewing the Stream RSZ's engine.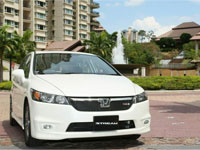 Front view of Stream RSZ in Premium White Pearl.
Closely in touch with the market's demand for stylish design, the Stream RSZ is fitted with full bodykit and 17 inches alloy wheels that aptly accentuate its sporty exterior design. The steering coated with fine leather impose a luxurious feel to the full black interior. As a whole, the perfect combinations have rightfully formed a more aggressive yet sensible character.
In addition to the exterior enhancements, the Stream RSZ is equipped with a string of new practical features. The fog light, smoke auto headlight and HID (high intensity discharge) headlights are a complete package of intelligent safety feature that offers improved illumination for night driving.
Stream RSZ front grille.
Leather coated steering wheel with paddle shirt.
Smoke auto headlights & HID.
The Stream RSZ powered by 1.8 i-VTEC engine guarantees a smooth driving experience. For refined driving pleasure, paddle shift has been added for fun driving, while armrest for the driver seats is installed for greater comfort. In terms of everyday practicality, the passenger seat under-tray has been created for storage convenience.
When addressing at the preview, Mr. Atsushi Fujimoto, Managing Director and Chief Executive Officer of Honda Malaysia remarked that, "The refinements accomplished in Stream RSZ show that we are on the pulse of the current lifestyle trend, where style and practicality in an automobile are expected to come hand in hand."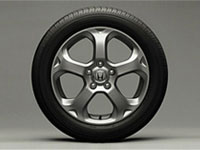 17-inch alloy wheel.
Stream RSZ full black interior.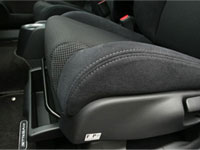 Passenger seat under tray.
"Stream RSZ is a versatile vehicle that is made for any occasion; from individual daily commutation to family outings. With the advanced refinements and the accompanying sales and after sales services, Stream RSZ at authorised Honda dealers is possibly the best package available in the market." he added further.
To date, Honda Malaysia has sold more than 1600 units of Stream since its launch in November 2007. Among the awards received by Stream in the recent years are New Straits Times/Maybank Car of the Year 2008 under the MPV category, as well as the Best Handling MPV by Asian Auto - VCA Auto Industry Awards 2008.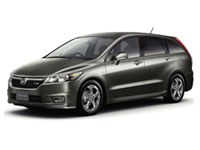 Polished Metal Metallic.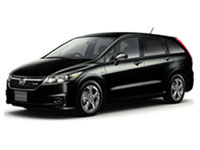 Crystal Black Pearl.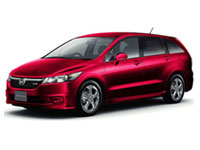 New Red Pearl.
The Stream RSZ comes with 4 trendy shades. Other than Premium White Pearl, Honda Malaysia is introducing 3 new colours including Crystal Black Pearl, Polished Metal Metallic and New Red Pearl. You can check out the Stream RSZ beginning from 26 February 2009 at any authorised Honda dealers! For more information, please visit www.honda.com.my.