Petaling Jaya, 26 February 2009 - Stream just got sexier and sportier with a string of refinements that are both aesthetically appealing as well as practically applicable. The sporty looking 7-seater MPV is now bolder, more stylish and offers more practicalities for refined driving experience.
It's a thing in the past where MPV was only for families. Typically, the functional aspect of a MPV would usually take centre stage, and therefore the element of style would be usually compromised. But today, MPV has won over hearts of both individuals as well as families; it is especially true for the refined Stream RSZ.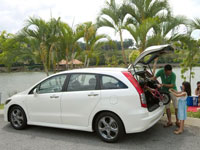 Family outing using Stream RSZ.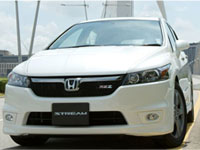 Stream RSZ front view.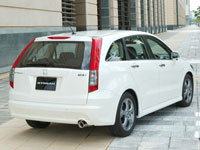 Stream RSZ rear view.
Over 1,600 units have been sold nationwide since its 2nd Generation was launched in November 2007. The sportier looking Stream RSZ now has a new definition for style: bold and beautiful.
What does the Stream RSZ have to offer?
Eloquent style - The advanced exterior with full bodykit, 17-inch alloy wheels and a characteristic front grille are sure to turn heads. Stream RSZ is not just another MPV but a machine that spells style and eloquence.
Inner beauty - The steering coated with fine leather impose a luxurious feel to the full black interior. As a whole, the perfect combination has rightfully formed a more aggressive yet sensible character.
Intelligent safety - The slim headlights now have smoke-coloured covers but more significantly, the bulbs are High Intensity Discharge (HID) type, which in essence give stronger illumination for night driving. In addition, they can be set to turn on automatically when lighting conditions are poor.
Refined driving experience - Powered by 1.8 i-VTEC engine, Stream RSZ guarantees a smooth driving experience while Paddle Shift has been added for fun driving.
First-class comfort - Armrest between the driver and front passenger seats is installed for greater comfort.
Smart storage - The passenger seat under-tray is spacious enough for additional pairs of shoes.
Mr. Atsushi Fujimoto, Managing Director and Chief Executive Officer of Honda Malaysia remarked that, "The refinements accomplished in Stream RSZ show that we are on the pulse of the current lifestyle trend, where style and practicality in an automobile is expected to come hand in hand."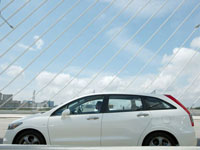 Stream RSZ side view.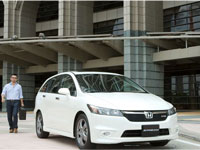 Stylish Stream RSZ posing in front of building.
"Stream RSZ is a versatile vehicle that is made for any occasion; from individual daily commutation to family outings. With the advanced refinements and the accompanying sales and after sales services, Stream RSZ at authorised Honda dealers is possibly the best package available in the market," he further added.
Since its launch 2 years ago, Stream has been recognised as 'Car of the year 2008' under the MPV category by New Straits Times/Maybank; as well as the 'Best Handling MPV' by Asian Auto - VCA Auto Industry Awards 2008.
The Stream RSZ comes with 4 trendy shades. In addition to Premium White Pearl, Honda Malaysia is introducing 3 new colours namely Crystal Black Pearl, Polished Metal Metallic and New Red Pearl.
You can check out the Stream RSZ beginning today at any authorised Honda dealers! For more information, please visit www.honda.com.my.