Bukit Mertajam, 22 June 2009: Honda Malaysia extended its reach in Penang by unveiling JM Motor Venture Sdn Bhd (JM Motor Venture), its 58th showroom (6th in Penang, 55th 3S Centre in the nation) today here in Bukit Mertajam. The occasion was officiated by Mr. Simon Ng Bak Chua, Group Managing Director of JM Motor Venture and Mr. Toru Takahashi, Managing Director and Chief Executive Officer of Honda Malaysia. The initiative of dealership network expansion is part of the company's commitment to uphold its Customer Satisfaction No. 1 policy, as well as to meet the growing market demand in region.
"Over the years, Penang's automobile market volume grew from 39, 858 units in year 2002 to 46,254 units in year 2008, represented a growth of 16% in 7 years," remarked Mr. Toru Takahashi in his speech during the official launch.
JM Motor Venture Sdn Bhd, New Honda 3S Centre in Bukit Mertajam, Penang.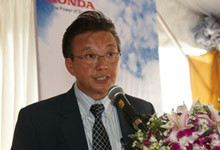 Mr. Simon Ng Bak Chua, Managing Director of JM Motor Venture Sdn. Bhd.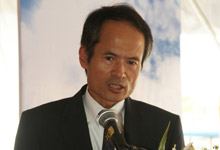 Mr. Toru Takahashi, MD & CEO of HMSB delivering his speech.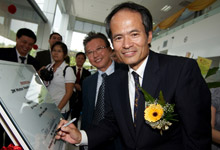 Plague signing ceremony by Mr. Toru Takahashi.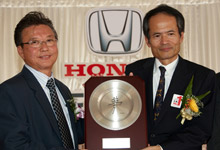 Mr. Toru Takahashi presenting Token of Appreciation to Mr. Simon Ng Bak Chua.
"Since Honda Malaysia started selling cars in 2001, our sales in Penang have grown more than 6 times, from 415 units in 2002 to 2,958 units in 2008," he added.
In 2008, Penang has contributed 9% (2,958 units) to the total annual sales of 32, 492 units. City, Civic, Accord and CR-V are particularly well received by the locals with encouraging sales of 1,100, 732, 643 and 303 units respectively in the same year.
"As our customer base is growing steadily, we are committed to ensure that our customers are well attended to. We could not emphasise more on our steadfast commitment to achieve Customer Satisfaction No.1, which is to provide products, sales and after-sales services of highest quality at reasonable prices," he added.
Mr. Simon Ng of JM Motor Venture also reassured the public that "All our associates are well trained to meet our high service standard. We ensure our discerning customers excellent care, sales and after sales services."
The 3S (short form for Sales, Service and Spare Parts) concept is a constituent of Honda Malaysia's policy of prioritising customer satisfaction while creating an enjoyable customer experience. Honda believes that with purchase of a car, a life-long relationship with the customer is forged and therefore it is utmost important for Honda to build an on-going relationship through high quality sales and after-sales services.
Since its establishment, Honda Malaysia has been equipping and training its dealers to acquire the 3S status so as to provide a total package of service and convenience to customers nationwide.
To date there are a total of 58 Honda Dealers, of which 55 of them operate Honda 3S Centres nationwide, out of which six are in Penang and five of them are 3S centres.
The new 3S centre opens daily and is ready to serve Honda owners better. Customers are welcome to visit the showroom or call JM Motor Venture at 04 - 5306393 for more information.