Petaling Jaya, 26 May 2008 - Honda Malaysia announced today that the recently launched All New Accord recorded robust sales in the first month with confirmed orders totalling more than 5,000 units as of 25 May 2008.
The Honda flagship model was marked to sell 600 units a month in the first year with a total of 7,200 units targeted for the full year. With 5,194 units of orders, the first month sales record well exceeded the monthly target by eight (8) times, and met about 70% of the annual sales target set by Honda Malaysia.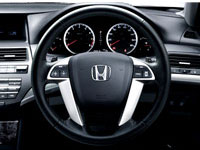 Instrument Panel Overview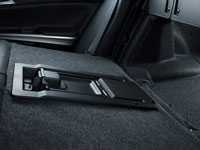 Fold-down rear seat
Polished Metal Metallic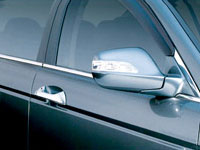 Door Visor - Sleek Aerodynamic design with minimal wind noise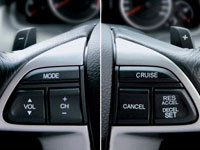 Paddle Shift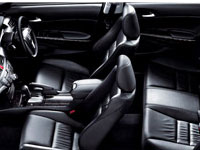 The most spacious sedan in its class
"We are very pleased and encouraged by the overwhelming response to the All New Accord at such an early stage," said Mr. Atsushi Fujimoto, Honda Malaysia Managing Director and Chief Executive Officer. "It goes to show that the 8th Generation model offers an image, style, features and technology that truly meet the expectations of our customers of a luxury performance sedan," he added.
The All New Accord is developed based on four concepts - a car that is Powerful and Fun to Drive; provides Comfort; meets World Safety Standards; and attains maximum Fuel Efficiency. It delivers the promise of a revolutionary luxury vehicle that is refined, dynamic and sophisticated; and is made for those who aspire to succeed in life, appreciate the finer things, carry a discerned image and enjoy a high performance drive.
The All New Accord is available in three engine variants: the enhanced 2.0-liter SOHC and 2.4-liter DOHC i-VTEC engines, and the first ever and most powerful V6 3.5-liter i-VTEC VCM engine in the Accord line-up. It comes in five colours: Polished Metal Metallic; Bold Beige Metallic; Nighthawk Black Pearl; Sparkle Gray Pearl; and Alabaster Silver Metallic.
Amongst the 5,194 units of confirmed orders within the first month of launch, the Polished Metal Metallic, which is a new colour variant introduced with the 8th Generation model, was the most popular. Both the 2.0-liter and 2.4-liter models constituted around 50% each of the total sales.
In view of strong demand for Honda cars this year, Honda Malaysia had earlier adjusted overall local assembly and production activities from the annual capacity of 25,000 units in 2007 to 30,000 for the current year. Mr. Fujimoto said: "We have increased our production capacity to meet the growing demand of Honda cars in Malaysia, especially the 8th Generation Accord, which proved to be very popular amongst customers here".
"With such overwhelming response for the All New Accord in the first month of launch, we are now preparing to further raise our production capacity so as to shorten the waiting period for customers who have already made their bookings," he added.
Honda Malaysia invites and welcomes all Malaysians to visit their authorised dealers and showrooms to view and test-drive the All New Accord. For more information, please call Honda Toll Free number at 1-800-88-2020, or log on to www.accord.com.my for more information.