Petaling Jaya, 13 October 2008 - He walks. He runs. And perhaps most importantly, he inspires us all to dream. ASIMO, which is the acronym for Advanced Step In Innovative Mobility, is Honda's first humanoid robot, and will be visiting around Malaysia in November to showcase its latest abilities - running, gripping objects and recognising people - and at the same time, bring hope and inspiration as it progresses closer to one day ease people's life through mobility innovations.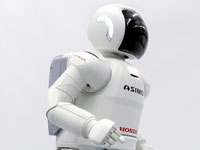 ASIMO, the world's first humanoid robot by Honda will run in Malaysia this November.
What began as a dream is now a reality in the new generation of ASIMO with new technologies bringing it to a higher level of mobility that will enable ASIMO to function in human society. ASIMO has features that are compact and lightweight, more advanced walking technology, wider arm operating parameters, easy to operate and people friendly design to operate more agilely in the real-world environment.
Born on October 31, 2000 and at 1.3 metres tall and 54kg, ASIMO's size and height enables him to operate in the human living space.
"ASIMO is the result of the vision of the Honda engineers and Honda's Challenging Spirit. After 22 years of research and development, today ASIMO can recognise objects, comprehends and respond to voice commands and even identify faces", said Honda Malaysia Managing Director and Chief Executive Officer, Mr. Atsushi Fujimoto.
In conjunction with the impending arrival of ASIMO, Honda Malaysia is organizing an "ASIMO Inspiring Dreams Contest" from October 13, 2008 to November 2, 2008. The contest requires the contestants to tell how ASIMO inspires them and their dreams for ASIMO in the future. Log on to www.honda.com.my/asimo and answer two simple questions to win limited edition ASIMO merchandise. Winners will also be invited to a special ASIMO Preview, whereby one lucky winner amongst them will have the opportunity of a lifetime to be served by ASIMO!
Honda will continue its efforts in research and development to create a more advance humanoid robot with the aim to be a possible assistant for people in the future. ASIMO is a result of Honda's dream of creating an ideal robot that eases people's lives as Honda strives to become a company that society wants to exist.
Visit www.honda.com.my/asimo or www.world.honda.com/ASIMO today to find out more about ASIMO.