Kuala Lumpur, 4 November 2008 - The new ASIMO made its first appearance in Malaysia, this time around at Petrosains, KLCC, surprising visitors today. With the message and hope of inspiring the youths and generation of tomorrow, ASIMO gave a sneak preview of his latest capabilities, creating much excitement and inspiration amongst the students to the world of science, technology and innovations.
Born on October 31, 2000 and standing at 1.3 metres tall while weighing 54kg, ASIMO, which is the acronym for Advanced Step in Innovative Mobility, thrilled the crowd with his ability to run and dance. ASIMO can now run faster at 6km/hour as compared to his previous 3km/hour.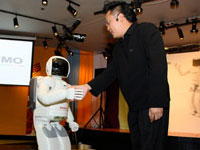 Anthony welcomes ASIMO to Malaysia.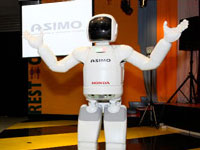 ASIMO is pleased to meet the students at Petrosains.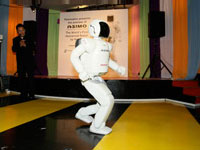 Now ASIMO can run at 6km hour.
Petrosains' Director of Marketing, En. Syed Yazrine Shahab who was present at the event said that it was indeed an exciting session today as he stressed upon the importance of leaving a positive impact on the lives of the students, particularly in building a fulfilling pathway for their future. ASIMO is the epitome of grand technology advancement, and Petrosains is honoured to be able to host ASIMO's preview in Malaysia. ASIMO is a clear reflection of Petrosains' highly interactive science communication methods and engaging-fun-learning approaches in inculcating the interest in science and technology among society. "We must continue to nurture inquiring minds and creative thinking skills in our children while promoting Science, Technology, Education and Mathematics (STEM) and life-long learning," added En. Syed Yazrine.
Petrosains, The Discovery Centre, is an exciting informal learning institution that offers interactive exhibits and scientific programs that are vibrant and engaging. Strategically situated in the PETRONAS Twin Towers at Level 4, Suria KLCC, this contemporary science centre was established by PETRONAS in its commitment, as a socially responsible corporate citizen, in providing a rich and stimulating environment to enhance science literacy.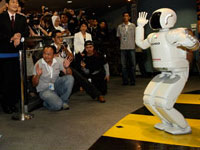 ASIMO dancing with the crowd.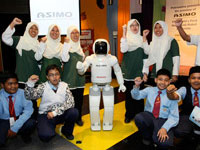 10 lucky students posing with ASIMO.
Students were excited to participate in the quiz session.
Also at the event was Managing Director and Chief Executive Officer of Honda Malaysia, Mr. Atsushi Fujimoto. "With the objective of bringing excitement and educating people about science and technology, Petrosains is an ideal place for ASIMO to showcase his latest innovations. I am pleased that we can work hand-in-hand with Petrosains in reaching the future generation of Malaysia as we continue to inspire them," said Mr. Fujimoto.
"ASIMO is a result of Honda's dream of creating an ideal robot, envisioning to one day ease people's lives as Honda strives to become a company that complements society. It took the Honda engineers 22 years of overcoming challenges to achieve what ASIMO is today. We at Honda have instilled in us the Challenging Spirit and as ASIMO has inspired us all, we hope ASIMO will be the inspiration to students to challenge themselves to reach out for their dreams, "added Mr. Fujimoto.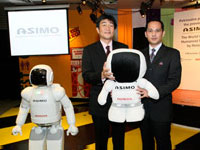 Mr Atsushi Fujimoto, MD & CEO of Honda Malaysia presents a token of appreciation to En Syed Yazrine Shahad, Director of Marketing, Petrosains.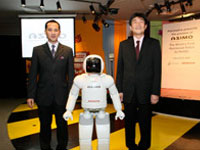 Photo Opportunity of ASIMO with En. Syed Yazrine and Mr Fujimoto.
Winners of the quiz are delighted to win limited edition ASIMO merchandise.
ASIMO will be in Malaysia for the whole month of November. During his road tour in Malaysia, he will cover the Klang Valley, Johor and Penang to bring a message of hope and inspiration especially to the youths of today.
Details of ASIMO's road tours:
| | | |
| --- | --- | --- |
| Date | Venue | Type |
| 14-16 November | 1 Utama Shopping Centre, Petaling Jaya | Road show |
| 18 November | University Teknologi Malaysia, Johor | Exclusive visit |
| 20-23 November | City Square, Johor Bahru | Road show |
| 25 November | Penang Adventist Hospital, Penang | Exclusive visit |
| 27-30 November | Queensbay Mall, Penang | Road show |
Visit www.honda.com.my/asimo or www.world.honda.com/ASIMO today to find out more about ASIMO.