Petaling Jaya, 4 March 2008 - With a month left to go for the Malaysian Grand Prix, Honda Malaysia is already at the starting grid with a series of F1 roadshow to be held throughout Klang Valley, Kuala Lumpur, Johor Bahru and Penang. And Honda is inviting Malaysians to its F1 roadshow to experience a challenging but enjoyable time with fun and games.
Grand Prize winner of the F1 Simulator Challenge, Encik Tunku Muhammad Ilyas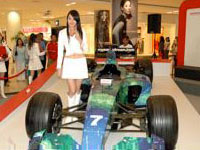 Honda race machine, RA107
The roadshows which kick-started with the Klang Valley leg on February 29, 2008 will be touring to different venues till the race day itself i.e. March 23, 2008.
Themed "Games for fun; race for challenge", the roadshows reinforce Honda's challenging spirit which drives the company to continuously compete at various level of motorsports.
Mr. Soichiro Honda once said, "Without racing, there is no Honda". Racing and motorsports are Honda's DNA. It is Honda's reason to exist.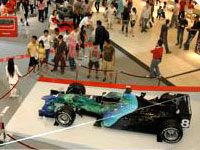 Shoppers finding out more about the Honda Racing F1 roadshow in Penang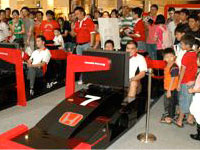 Just like an F1 event - Participants and their fans at the Honda F1 Simulator
With its DNA so deeply entwined with motorsports, Honda is also sharing its motorsports engineering technology, and its relentless pursuit of human development to improve skills to a higher level of new value creation. As a company inspired by its racing heritage, Honda challenges itself to push human boundaries in order to establish technological innovation.
According to Mr. Atsushi Fujimoto, Managing Director and Chief Executive Officer of Honda Malaysia Sdn Bhd said, "Honda Racing F1 Team has transformed human spirit into technology, when they enhance their race cars by applying advanced technology that gives outstanding performance. The team is determined to recapture its glory of challenging for championship titles following its defeat in F1 last year. But for Honda, it is not in the winning. We have come far in winning but we go further in defeats. The team spirit is stronger than ever and they are rising to the challenge within."
Information on the Honda F1 race machine, RA108 which has been named "Earthdreams" are also put up to educate the public on climate change and to encourage Malaysians to be more aware of the environmental concern towards our Earth. This is also Honda's global initiative through F1 to create a sense of urgency of the stress our environment is under.
The roadshows also feature Honda's racing heritage and a mock display of the RA107, the team's race machine in F1 2007.
The F1 roadshows will have fun filled activities such as games for Malaysians to experience the Challenging Spirit of Honda. Among these activities are interactive games and the F1 simulator that call on visitors to rise to the challenge in order to stand a chance to win exciting prizes worth more than RM10,000.00.
The details of F1 roadshows will be held as follows:
Date
Location
29 February - 2 March, 2008
Queensbay Mall, Ground Floor,
South Court, Penang
7 - 9 March, 2008
Sunway Pyramid Shopping Mall, LG2,
Orange Concourse, Petaling Jaya
14 - 16 March, 2008
City Square, Ground Floor,
Promo Area C, Johor Bahru
20 - 23 March, 2008
One Utama Shopping Centre,
Lower Ground Floor, Oval, Petaling Jaya
Prizes such as exclusive Honda Racing merchandise and F1 Grand Stand tickets await Malaysians who rise to the challenges at the roadshows. Come join with us to heat up the F1 fever at the nearest Honda F1 roadshow.
F1 enthusiasts can also log on to www.honda.com.my for information on upcoming F1 events and to get the first hand Honda F1 news.