Kuala Lumpur, 20 August 2008 - The premium All-New Jazz struts out on a specially made 'car-size' runway today in an exclusive fashion presentation inspired by the car's features and image, and created jointly by Malaysia's top fashion designers and stylist Melinda Looi, Jonathan Cheng, Khoon Hooi and Cris Yong. In an original car unveiling that is possibly the first of its kind here, the 2nd Generation Jazz made its entry into the Malaysia market with a strong statement about its class-leading performance, space and style.
When introduced in 2001, the 1st Generation Jazz quickly won over fans around the world as an unconventional car that exceeds customers' expectations of a compact car in terms of its stylish design, reliability, practicality, fuel efficiency and drivability. The global Honda model made an impressive cumulative sale of 2.3 million units worldwide with Japan and the Asia & Oceania region accounting for half of its sales. In fact, it opened a new 5-door hatchback segment in the Asia and Oceania region's automotive markets, and bagged numerous awards from acclaimed research houses and automotive media in Europe, South Africa, Japan and Southeast Asia.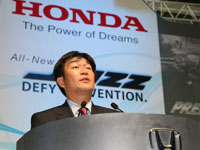 Mr. Atsushi Fujimoto, Managing Director & Chief Executive Officer of Honda Malaysia Sdn Bhd.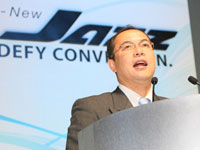 Mr. Kohei Hitomi, Chief Engineer, Representative of Automotive Development, Honda R&D Co. Ltd.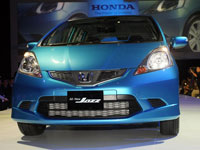 The All New Jazz in Cerulean Blue Metallic.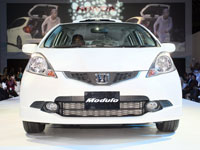 Taffeta White All-New Jazz with Modulo accessories.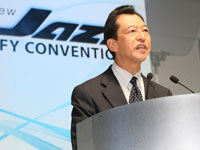 Mr. Fumihiko Ike, President & Chief Executive Officer of Asian Honda Motor Co. Ltd.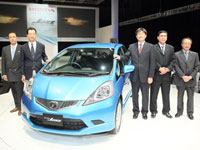 (Left - right) Mr. Kohei Hitomi, Mr. Fumihiko Ike, Mr. Atsushi Fujimoto, En. Azman Bin Idris, President & COO of Honda Malaysia, Ikuo Kanazawa, Vice President Honda Malaysia Sdn Bhd.
"The 2nd Generation Jazz presents one of the toughest challenges in the development of a car of its kind as its predecessor already set a high benchmark in the compact 5-door hatchback segment," said Mr. Atsushi Fujimoto, Honda Malaysia Managing Director and Chief Executive Officer in his speech at the unconventional launch of All-New Jazz.
He continued to describe the All-New Jazz development as an 'evolution' that takes the class-leading and well-received elements of the first generation and improves on them within the limits of price and size. "This is much more challenging than changing a car's total design; but it pushes us to innovate further so that our customers get even more value out of the similarly compact All-New Jazz," he said.
Also at the launch event was Mr. Kohei Hitomi, Chief Engineer from Honda R&D in Japan, whose team took the demanding task of developing the 2nd Generation Jazz. He explained that the development concept was focused on three areas: to develop a model that can be placed in the centre of compact car category; to offer strong product competitiveness; and to deliver new values to customers.
The result is a premium and class-leading compact 5-door hatchback with further improved and evolved 'DNA' from the 1st Generation Jazz, which includes its design, utility, drivability and fuel consumption.
Mr. Fujimoto added that the All-New Jazz will continue to appeal to both female and male, aged 25 to 39 years old, determined young singles and families who seek to be discerned and unconventional, and yet enjoy a car that is highly practical and reliable.
Key highlights of the 2nd Generation Jazz are its dynamic exterior styling, best-in-class spaciousness and comfort, class-leading performance and drivability with good fuel efficiency, and advanced safety features - all befitting of its new and PREMIUM image.
The front pillar of the All-New Jazz has been moved forward to create exhilarating effects on both exterior styling and interior space. Externally, the advanced super-forward form enhances the aerodynamic and energetic appearance of the car. Internally, the cabin features an ingenious layout that increase spaciousness equivalent to an average medium-sized sedan, providing passengers a natural feeling of comfort. It also makes way for an extended and larger wind shield which provides better visibility for the driver.
Another noteworthy achievement in the 2nd Generation Jazz is its enhanced utility. It provides a variety of seating and trunk utilities that maximise seating flexibility and cargo space. This includes extension of space and usage via the enhanced ULTRA Seat, which operates in the Utility, Long and Tall modes. These three modes enable car owners to load objects of different sizes into the car, enhancing the practicality of the car for today's car owners and drivers.
The All-New Jazz is powered by Honda's newly enhanced 1.5-liter i-VTEC engine, which combines with 5-speed Automatic Transmission (5AT) to offer excellent drivability, performance and fuel efficiency. It comes in the 1.5-liter i-VTEC Grade S and Grade V variants, both of which command a power output of 120 PS, which is the most powerful in its class. While the Grade S offers essential features of the All-New Jazz, the Grade V variant offers additional features such as paddle shift, and exclusive fittings that gives the car a sportier look. In terms of environmental friendliness, all variants have been designed to meet the EURO 4 emission level.
The safety performance of the All-New Jazz comes with the revolutionary G-CON Technology with body structure designed to spread out and disperse collision impact so as to limit cabin intrusion to effectively minimise driver and passengers as well as pedestrian injuries. It is also fitted with Dual SRS Airbags and ABS system.
According to Mr. Fumihiko Ike, President & Chief Executive Officer of Asian Honda Motor Co. Ltd in Thailand, the All-New Jazz maintained the number one market position in Japan for the ninth consecutive month in July 2008 since its introduction in October last year. Its cumulative sale in Japan alone has achieved more than 140,000 units as of July this year, which surpassed the sales record of the 1st Generation Jazz. It also received Japan's "Car of the Year" award, making history by winning the same prize as the first generation model.
Within the Asia & Oceania region, the All-New Jazz has already launched in Thailand, Indonesia, and Singapore with notable sales record. As of July this year, three months following the launch in March, the bookings of All-New Jazz in Thailand have reached an encouraging 10,000 units.
"Based on these successes as well as strong acceptance of the 1st Generation Jazz in Malaysia, Honda believes that the All-New Jazz will deliver even greater joy to our customers here in Malaysia," expressed Mr. Ike.
In Malaysia, the All-New Jazz is available in four colours: the Cerulean Blue Metallic; Alabaster Silver Metallic; Taffeta White; and Crystal Black Pearl (available from November 2008 onwards)
In addition to introducing the All-New Jazz via a thematic fashion show, Honda Malaysia is reaching out to its target audience via an Internet portal at www.defyconvention.com.my. To create a buzz and excitement leading to the launch, visitors of the site could subscribe to the weekly e-newsletter to get latest updates and information on the All-New Jazz, such as interviews with the creative team behind the launch and fashion show and its themes. Starting today, visitors will also get to see first-hand the television commercial of the All-New Jazz on the website, before it broadcast on TV on 27th August.
To reward the first 300 customers of the All-New Jazz, Honda Malaysia has also commissioned the three designers, Khoon Hooi, Melinda Looi and Jonathan Cheng, to design 300 pieces of exclusive polo t-shirts. Each piece will have its own unique design.
Starting today, customers can visit all authorised Honda showrooms nearby to view and test-drive the All-New Jazz. For more information, please call Honda Toll Free number at 1-800-88-2020, or log on to www.defyconvention.com.my.