Skudai, Johor, 18 November 2008 - ASIMO, the humanoid, made its appearance in Universiti Teknologi Malaysia (UTM) today, the first time ever ASIMO is present at a university in Malaysia to give a special demonstration to about 2,000 guests and undergraduates. With the message and hope of inspiring the youths and the younger generation of tomorrow, ASIMO demonstrates his latest capabilities, creating interest among the students on the wonders science, technology, invention and innovation.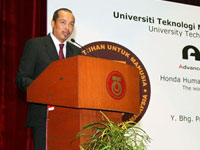 Representing Honda Malaysia is En. Azhar bin Abdul Wahab, General Manager of Manufacturing, hopes that ASIMO will inspire the students to pursue for their dreams.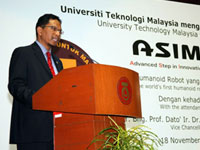 Y. Bhg. Professor Dato' Ir. Dr. Zaini Ujang, Vice Chancellor of Universiti Teknologi Malaysia is honoured UTM is the first university to be visited by ASIMO in Malaysia.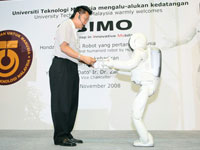 ASIMO's improved abilities to interact with people and serve items, making him a possible assistant in our society.
Born on October 31, 2000 and standing at 1.3 metres tall and weighing 54kg, ASIMO, which is the acronym for Advanced Step in Innovative Mobility, thrilled the crowd with his act of running and dancing!
En. Azhar bin Abdul Wahab, Honda Malaysia's General Manager of Manufacturing presenting a token of appreciation to Y. Bhg. Professor Dato' Ir. Dr. Zaini Ujang, Vice Chancellor of Universiti Teknologi Malaysia.
Students from UTM and various schools participates in the quiz session and won ASIMO goodies.
Students waiting eagerly to meet ASIMO in person.
In UTM, robotics introduced by Faculty of Electrical Engineering, under Mechatronics and Robotics Egineering Department in 1997. Mechatronic Engineering is a new engineering field established based on the amalgamation of a few engineering fields including Electronic, Electric, Mechanical, Control, Software, Computers and Information Technology. Mechatronics is the technology behind the production of smart products such as automotive control system, robotics and many household products which typically integrate the microprocessor, control system and mechanical system. The interest in the application of this field of study has increased rapidly and expanding widely in the industries especially in the manufacturing industry where synchronization of complex robotic and automation systems for micro processing and micro control is becoming more significant.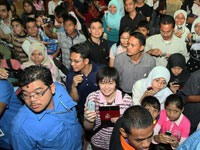 The audiences are thrilled the moment ASIMO appeared on stage.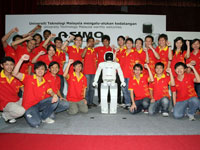 ASIMO is truly an inspiration to the UTM Robocon Team to strive further in their Mechatronic and Robotic pursuits.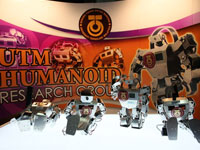 UTM Robocon Team demonstrates their humanoid robot invention and abilities.
The Department of Mechatronic and Robotics, Faculty of Electrical Engineering, UTM, is responsible for both the undergraduate programs and research- and consultancy-related activities in this field. The research works cover a broad spectrum of robotic and mechatronic systems which include sensor technology, intelligent machines, advanced and intelligent control algorithm, industrial automation, design of robot and framework, mobile robot and computer integrated manufacturing. The Centre of Robotic and Artificial Intelligence (CAIRO) is another unit that establishes a symbiotic relation with the Department of Mechatronic and Robotics in fulfilling the related research activities. CAIRO is one of the Centers of Excellence (COE) which is becoming a prominent research centre for robotic and artificial intelligence (AI) as well as to enhance the application of AI and robotic technologies in Malaysian industries. There is a number of research groups formed by many doctoral and master students solving various specific fundamental and application-based research problems such as active vibration control of flexible robot arm, robust control of autonomous helicopter system and mobile robot, multi-agent and multi-team mobile robot, embedded system for mechatronic application, humanoid robot and development of new AI algorithm for various applications. The groups are led by three professors, three associate professors, and two doctorate holders and supported by a few academic staff
Representing the Managing Director and Chief Executive Officer of Honda Malaysia was Encik Azhar Bin Abdul Wahab, General Manager of the Manufacturing Department, who said, "UTM is indeed a very special "stop" for ASIMO in his tour in Malaysia this time around because ASIMO has never visited a University in his previous visits to Malaysia. UTM being the country's premier university in engineering and technology with a leading School of Mechatronics and Robotics, is the perfect educational institution for ASIMO to be present to inspire the inventors and scientists of tomorrow."
"ASIMO is the reality of a dream. It was created out of Honda's Power of Dreams and the Challenging Spirit that drive us all these years at Honda. After 22 years of research and development, the new ASIMO can now run faster with an airborne time of 0.08 seconds and at its top running speed of 6km/hour, it can grasp objects, recognise people and even serve drinks!" added Encik Azhar.
ASIMO arrived in Malaysia since late October and has made appearances in Klang Valley at Petrosains, KLCC, and 1 Utama Shopping Centre in Petaling Jaya. His next stop after UTM will be at City Square, Johor Bahru.
Details of ASIMO's road tours:
| | | |
| --- | --- | --- |
| Date | Venue | Type |
| 20 - 23 November 2009 | City Square, Johor Bahru | Road show |
| 25 November 2009 | Penang Adventist Hospital, Penang | Exclusive visit |
| 27 - 30 November 2009 | Queensbay Mall, Penang | Road show |
Bringing the message of hope and inspiration, ASIMO hopes to encourage Malaysians to challenge themselves in realising their dreams.
Visit www.honda.com.my/asimo or www.world.honda.com/ASIMO today to find out more about ASIMO.