Johor Bahru, 20 November 2008 - ASIMO today demonstrated a surprise dance to the tune of Rasa Sayang to spice up the Johor leg of his road tour in Malaysia. Making his debut in Johor, ASIMO showcased his latest capabilities and the Rasa Sayang dance which gave his show a Malaysian twist. The audience watched in excitement and awe as ASIMO demonstrated his latest features to inspire them.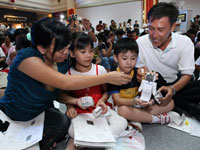 Family of four piecing an ASIMO origami together to win a photo opportunity with ASIMO.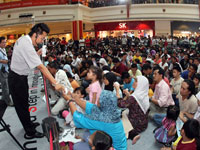 Audience showing off their ASIMO origami to win a photo opportunity with ASIMO.
Johor crowd is anxiously waiting for ASIMO's appearance.
ASIMO, which is the acronym for Advanced Step In Innovative Mobility, arrived in Malaysia late October and Johor is the southern most city he is visiting in his road tour. The dancing to Rasa Sayang whereby ASIMO had the audience dancing along was definitely the highlight of his demonstration together with his ability to now run faster at 6km/hour.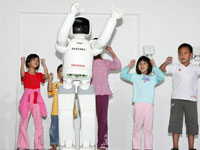 ASIMO's Rasa Sayang dance in Johor gave his road tour a Malaysian twist.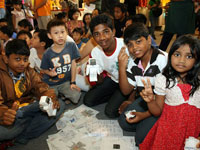 Children proudly showing their completed ASIMO origami.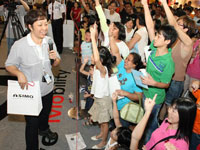 Audience participating in the ASIMO quiz session.
Prior to Johor, ASIMO visited Petrosains in Kuala Lumpur and had a media preview and roashow in 1 Utama, Petaling Jaya. ASIMO also made a special stop for his first ever visit to a university in Malaysia - Universiti Teknologi Malaysia - where he inspired more than 2,000 undergraduates and students to reach for their dreams.
ASIMO will be in City Square, Johor Bahru from November 20 - 23, 2008. After Johor, ASIMO will travel to Penang to make a special appearance at the Penang Adventist Hospital on November 25 and a road tour in Queensbay Mall on November 27 - 30, 2008.
Honda hopes that by bringing ASIMO on these road tours in Malaysia will help inspire Malaysians to challenge themselves and reach for their dreams.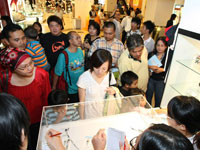 Brisk sales at the ASIMO merchandise counter.
Visit www.honda.com.my/asimo or www.world.honda.com/ASIMO today to find out more about ASIMO.