Petaling Jaya, 1 July 2008 - Honda's 3S Campaign is back! Honda Malaysia today announced that all 53 Honda authorized dealers throughout Malaysia will be participating in the Honda 3S Campaign which starts 1st July 2008 till 30th September 2008.
Honda Showroom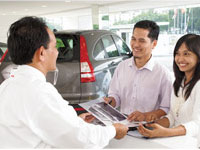 Honda Showroom
"Experience Honda 3S Campaign" aims to reward anyone who steps into any Honda authorized dealers to experience the sales, service and spare parts services; whether its to test-drive a Honda, service your car or make a purchase. 3S stands for sales, service and spare parts. Honda's 3S centers provide sales, service, spare parts and body repair services under one roof thus allowing customers to experience its new products while perusing the after-sales facilities available; all to their convenience.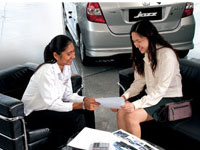 Honda Showroom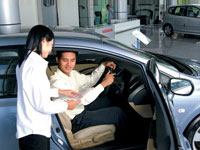 Honda Showroom
Managing Director and Chief Executive Officer of Honda Malaysia, Mr. Atsushi Fujimoto reiterated Honda's commitment, "Honda always strives to achieve No.1 in customer satisfaction through high quality products, sales and after sales services. In view of the current market situation in Malaysia, it is important that Honda continues to do what we do best, which is giving Malaysians high quality vehicles with advanced technologies for better fuel economy. It is always our commitment to provide customers with products and services of the highest quality standards at reasonable price."
The 3S concept is in line with Honda Malaysia's policy of prioritizing customer satisfaction while creating an enjoyable experience for customers each time they visit an authorized Honda dealer. Honda strongly believes that when a customer purchases a Honda car, a life-long relationship is forged. Thus, high importance is placed in after sales services.
Throughout the period of the "Experience Honda 3S Campaign" from July till September 2008, anyone test-driving any Honda model will be rewarded with a Honda Tool Kit.
Customers will enjoy special interest rates when they purchase a Honda City, CR-V, Stream, Odyssey or any Civic model. By registering Civic Type R, Civic Hybrid, Stream or Odyssey during this campaign, customers will be in the running for a lucky draw to win 50 Debit Cards worth RM5,000 each. 50 limited edition Honda Racing Watches worth a total of RM26,000 will be given away in a lucky draw to customers who make bookings for a CR-V, Civic 1.8 or Civic 2.0 during these 3 months.
Customers who enjoys enhancing the sportiness and functionality of their Honda car can do so with the Modulo packages with up to 15% discounts. Besides going home with a snazzy Honda car, customers will also stand to win 6 i-Pod Touch in a lucky draw. Honda Racing Watches will be given to customers who purchase a City or Civic Modulo Bodykit Package.
Most importantly, existing Honda owners are not forgotten. Existing customers who bring in their cars for service will get a Honda Racing Key Chain and by spending more than RM200 at any authorized Honda service centres, customers will get a Honda Racing Bag. They will also receive a discount of up to 30% on high grade Honda engine oil.
Since its establishment, Honda Malaysia has been equipping and training all their dealers to achieve the 3S status in order to provide a total package of service and convenience to their customers nationwide. To date there are 50 Honda 3S centres nationwide and Honda Malaysia plans to increase the number from time to time in order to meet the growing needs of customers in Malaysia.
The "Experience Honda 3S Campaign" is ongoing until September 30. So hurry and experience the Honda 3S experience at your nearest Honda showroom today! For more information, please call Honda Toll Free number at 1-800-88-2020, or log on to www.honda.com.my for more details.