Penang,December 1,2008 (Monday) - A humanoid robot that can grip a brush and paint our unique batik plus dance to the tune of Rasa Sayang - impossible? Not with the Power of Dreams. ASIMO demonstrated all these as well as running, dancing, kicking ball and serving drinks when he was in Malaysia throughout the month of November.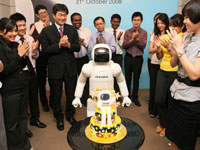 Managing Director and Chief Executive Officer of Honda Malaysia, Mr Atsushi Fujimoto and associates sing ASIMO a Happy Birthday song.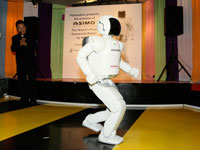 Now ASIMO can run at 6km/hour.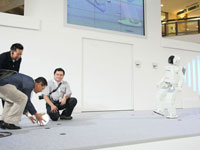 ASIMO plays futsal with the audience.
Mr. Atsushi Fujimoto, Managing Director and Chief Executive Officer of Honda Malaysia said,"Honda dreamt in creating a humanoid robot and today, ASIMO is Honda's dreams in reality. We will continue in the research and development of creating an ideal humanoid robot to ease people's lives as we strives to become a company that society wants to exist."
"I hope the presence of ASIMO in Malaysia this time around has encouraged Malaysians to reach out for their dreams and rise to the challenge of turning their dreams into reality", added Mr. Fujimoto.
It was an inspiring tour when ASIMO spent a month delighting audiences in 3 cities and visiting 3 organisations in Klang Valley, Johor and Penang. Malaysians could be seen flocking to see his demonstrations.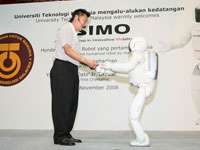 ASIMO can now serve drinks, making him one step closer to become a possible assistant to human in the future.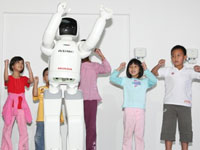 ASIMO's Rasa Sayang dance in Johor gave his road tour a Malaysian twist.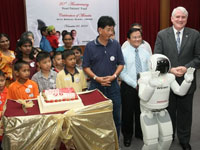 ASIMO celebrates the Heart Patients' Fund 20
th
-anniversary with the beneficiaries by singing them a Happy Birthday song.
Since ASIMO's arrival in Malaysia end of October, he celebrated his 8th birthday with Honda associates, inspiring them to reach for their dreams with his special presence at Honda Malaysia's Sales and Marketing office in Petaling Jaya.
ASIMO's exclusive visits to three organisations had left significant impact to the audiences. He had created much inspiration to students in the world of science and technology when he visited Petrosains and in his first ever visit to a university in Malaysia, ASIMO showcased his capabilities to some 2,000 undergraduates and students of various ages in Universiti Teknologi Malaysia (UTM). He then journeyed to Penang Adventist Hospital (PAH) to celebrate the 20th Anniversary of the hospital's Heart Patients' Funds where he walked amongst people who are living their dreams of a fulfilling life free of heart ailments. His presence together with 46 heart patients who had benefited from PAH's Heart Patients' Fund was a heartening encouragement to patients at the hospital and audience.
The crowd showed much excitement during ASIMO's road tours in 1 Utama, City Square Johor Bahru and Queensbay Mall Penang when he demonstrated his latest capabilities and danced to the Rasa Sayang song in Johor and ended his tour in Malaysia with Batik painting in Penang, which is the first time ever in the world.
ASIMO, which stands for Advanced Step In Innovative Mobility demonstrated various latest capabilities during his road tours. The highlight of this new ASIMO is that he can run faster at 6km/hour with an airborne time of 0.08 seconds at this speed, as compared to 3km/hour previously and airborne time of 0.05 seconds.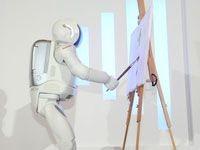 ASIMO demonstrated the world's first ever Batik painting in Penang. His opposable thumbs that allow him to hold odd-shaped objects make him possible to hold up a brush today.
ASIMO bids farewell to Mr. Atsushi Fujimoto, MD & CEO of Honda Malaysia and Honda Malaysia associates.
In reminding mankind to challenge themselves to reach out for their dreams, ASIMO will continue on his journey to spread the message of hope and inspiration to people of all ages.

Visit www.honda.com.my/asimo or www.world.honda.com/ASIMO today to find out more about ASIMO's journey in Malaysia.