Penang, November 25, 2008 (Tuesday) - Celebrating 20 years of miracles with the Heart Patients' Fund of Penang Adventist Hospital, ASIMO thrilled the heart beneficiaries, patients and employees of the hospital with a special demonstration of his latest capabilities. Approximately 300 invited guests comprising a number of Heart Patients' Fund beneficiaries over the last 20 years, came from Kedah, Perak and Penang to watch ASIMO inspires his audience to reach for their dreams and hold steadfast to hope and overcome challenges.
Beneficiaries and Guests are anxiously waiting for ASIMO's special appearance at Penang Adventist Hospital.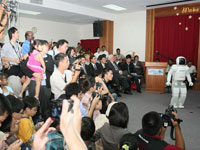 ASIMO's live demonstration brings joy and inspiration to the crowd, especially the heart patients to hold steadfast to their hope and overcome challenges.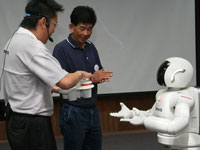 The first beneficiary of the Heart Patients' Fund, Mr Kho Chon Teck is honored to be served by ASIMO during the celebration.
Development of ASIMO, which is the acronym for Advanced Step in Innovative Mobility, to his present abilities took 22 years and through the years, the Honda engineers persevered to overcome many challenges to give ASIMO his advanced technologies. ASIMO's exclusive visit to Penang Adventist Hospital serves as a strong encouragement of hope while bringing joy to heart patients, charity beneficiaries and the hospital's employees as the hospital celebrates the 20th Anniversary of its most established fund. The Heart Patients' Fund which took roots in 1988, turns 20 years old this year.
The hospital's Heart Patients' Fund was established to make a difference in the lives of the less fortunate and through mending the heart of hundreds of adults and children, the hospital is realizing their dreams. The celebration aims to commemorate the Fund's 20th anniversary, celebrate the many miracles and also to give courage and inspire the sick and needy. For two decades, the hospital had mended over 460 lives, including children from Southeast Asia under the Gift of Life International Programme. This special celebration was made even more meaningful with special appearance of ASIMO.
In conjunction with its 20th anniversary, the Fund had disbursed more than RM300,000 since early this year. The hospital also organized several fundraising projects, including a charity climb to Mount Kinabalu and a charity concert held together with Mended Hearts Group. A total of RM230,000 in funds has been raised through these projects for children in need of heart surgery. The Celebration is the culmination of all the 20th anniversary projects this year. The event ends with a special Make-a-Wish closing with everyone placing a wish on the "Make-a-Wish Sky" in the hall.
The Penang Adventist Hospital started in 1924, with a noble mission of providing healthcare to all regardless of their ability to pay. The first clinic in Muntri Street had a sign that said "Poor Treated Free". Today, after 84 years in the healthcare industry, the mission still continues with support from the community. Each year, funds raised are utilized to help patients who are unable to afford medical bills. The hospital also provides subsidies as a financial relief for needy patients. In 2007, the non-for-profit hospital on its own contributed RM8.2 million to provide charity care and discounts to needy patients.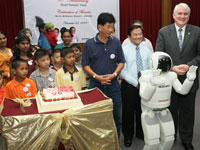 ASIMO celebrates the fund 20
th
Anniversary with the beneficiaries by singing them a Happy Birthday song.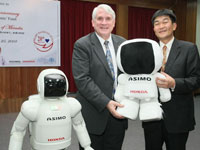 Mr Atsushi Fujimoto, Managing Director and Chief Executive Officer of Honda Malaysia presents a token of appreciation to Dato' Teddric Jon Mohr, President and Chief Executive Officer of Penang Adventist Hospital.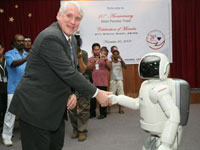 Dato' Mohr is grateful to have ASIMO celebrating with them the Fund's 20
th
Anniversary.
Parallel to the objective of the Fund, ASIMO's presence brings hope and inspiration to Malaysians at the same time, reminding them to challenge themselves to reach out for their dreams. ASIMO sang a Birthday song, danced and even served a drink to the first beneficiary of the Fund, Kho Chon Teck during the celebration. Joining in the commemoration were former beneficiaries, founding members, donors and supporters of the Fund, including doctors and staff.
Honda Malaysia Managing Director and Chief Executive Officer, Mr Atsushi Fujimoto said, "Honda envisions that one day ASIMO will be able to ease people's lives. His height of 1.3 metres is the perfect height for helping around in the real world especially at home, office or even hospital; assisting people confined to bed or wheelchair". President and CEO of Penang Adventist Hospital, Dato' Teddric Jon Mohr thanked Honda Malaysia for bringing ASIMO to the hospital. "We are honored to be chosen as the first hospital in Malaysia to be visited by ASIMO. For many of us, it is a dream come true to watch him perform but more importantly, for most of us, we are inspired by the hope that he brought to this place of healing. I hope that Honda's dreams for ASIMO to be a human assistant will become reality one day."
ASIMO's exclusive visit to the Hospital serves as a strong encouragement of hope to the Fund's beneficiaries.
ASIMO's creators had a dream of a humanoid robot assisting in human society. Today, after 22 years of research and development, ASIMO is stepping closer to the reality of that dream. The new ASIMO can now run faster at 6km/hour, doubled from the previous 3km/hour, grasp objects, recognize people and even serve drinks.
Since his arrival in Malaysia late October, ASIMO has made appearances in Klang Valley at Petrosains, KLCC, and 1 Utama Shopping Centre in Petaling Jaya. His next stop was at UTM and City Square, Johor Bahru before he arrived in Penang Adventist Hospital. Bringing the message of hope and inspiration to Malaysians to challenge themselves in realizing their dreams, ASIMO will be in Queensbay Mall, Penang next from the 27 - 30 November before leaving Malaysia.
Visit www.honda.com.my/asimo or www.world.honda.com/ASIMO today to find out more about ASIMO.
Well-wishers who want to donate and make a difference in the lives of the less fortunate may send their donations by crossed cheque payable to the "Heart Patients' Fund". Please send all donations to the: Development Department, Penang Adventist Hospital, 465 Jalan Burma, 10350 Penang.