Kuala Lumpur, 18th December 2008 - Honda Malaysia today announced the arrival of the 3rd Generation City! Malaysian consumers looking for value-for-money sedans can find it all in the All-New City, which is now value-added and complete with a dynamic stylish design, class-leading performance and ingenious practicality.
Mr. Atsushi Fujimoto, Managing Director and Chief Executive Officer of Honda Malaysia delivering his speech during the launch.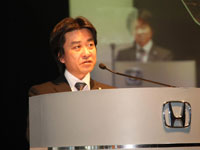 Mr. Takeshi Nakamura, Chief Engineer and Large Project Leader, Honda R&D Co. Ltd sharing the development concept of The All-New City.
Mr. Atsushi Fujimoto, Managing Director and Chief Executive Officer of Honda Malaysia drove out The All-New City in the official unveiling ceremony with Mr. Takeshi Nakamura, Chief Engineer and Large Project Leader, Honda R&D Co. Ltd, by his side and the HMSB management team at the rear passenger seat.
In his speech at the All-New City's launch ceremony, Mr. Atsushi Fujimoto, Managing Director and Chief Executive Officer for Honda Malaysia, said City has always been well received among discerned customers here in Malaysia, particularly for its practicality and economical features such as easy-to-manouvre size, spacious cabin, fuel efficiency and affordable price point. He emphasised Honda had significantly enriched the current model's specifications with qualities and values that surpassed customers' expectation in a sedan of its class. Honda had successfully integrated and packaged style, performance and practicality in the All-New City, which, according to him, "comfortably caters for both work and leisure to the out-going or family-oriented Malaysian. "
Mr Takeshi Nakamura, Chief Engineer of Honda R&D Co. Ltd explained that the new model's exterior styling had adopted the concept of the 'Arrowshot Form', which originated from the idea of an energetic arrow stringed on a bow and ready to be released. "The dynamic form and theme moved all the developing vectors in one direction and as a result, the design now features an imposing and ambitious look," he said.
The 'Arrowshot Form' is expressed beautifully with a powerful forward thrusting front-end with character lines on both sides running from the rear rising roof and raised trunk deck. From the side view, the automobile conveys lots of pent-up energy with concentrating forces flying forward from a high tension rear-end. The headlights adopt a slim and wide design to give it a sharp look, while the rear combination lights took on the shape of feathers on an arrow to express aerodynamic and ''cutting through the wind' appearance.
The All-New City runs on the newly developed i-VTEC engine, which adopts a more advanced technology. Producing 120PS at 6,600 rpm, and 145Nm of torque at 4,800 rpm, it is currently the most powerful in its segment. It is also the first in the 1.5-liter sedan segment to come with the 5 Speed Automatic Gear Transmission. Both fuel efficiency and power output have been improved and balanced, without compromising one or the other, to achieve environmental-friendly performance. Fuel efficiency has been pursued from various angles, from improving oil retention, friction reduction, reducing fuel consumption in the high-speed and high-load ranges to reducing the overall weight of the car, thereby contributing to the model's fuel efficiency. In terms of environmental performance, the All-New City meets the Euro 4 level of emission.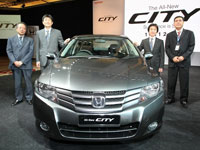 Mr. Ikuo Kanazawa, Vice President of Honda Malaysia, Mr. Atsushi Fujimoto, Managing Director and Chief Executive Officer of Honda Malaysia Sdn Bhd, Mr. Takeshi Nakamura, Chief Engineer and Large Project Leader and Honda R&D Co. Ltd and En. Azman Bin Idris, President and COO of Honda Malaysia.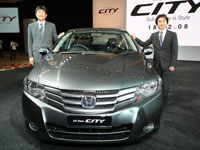 Mr. Atsushi Fujimoto, Managing Director and Chief Executive Officer of Honda Malaysia and Mr. Takeshi Nakamura, Chief Engineer and Large Project Leader, Honda R&D Co. Ltd.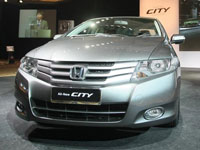 The All-New City in Alabaster Silver Metallic.
Interior spaciousness and comfort are greatly enhanced in the All-New City with a 100mm extended wheelbase that provides better styling and efficient space usage. It has a more adjustable and variable driving position and as such, providing better driving comfort, especially during long-distance drives. It now comes equipped with a tilt and telescopic steering column and driver seat height adjuster. The tilt and telescopic adjustment ranges have increased from 10 to 40 mm for each direction, and the driver's ratchet height can be altered within a 50 mm range. A footrest has been widened by shifting the accelerator and brake pedals 15 mm to the right.
Developed for the best balance between maximum capacity and practical usage, the vehicle's trunk capacity is now at an astonishing 506-liter, providing a lofty carriage space in cars of its 1.5-liter segment. Unique spaces such as the rear underseat tray (located beneath the rear seat) allow passengers to store their umbrellas and an extra pair of shoes for rainy days. Glove box and coin pockets are larger, allowing passengers the convenience to store more things. More storage areas are also incorporated - the cardholder located in the center arm rest, and extra cup holders are added in the front door pockets, between the two front seats, in front of the shift lever and in the rear armrest.
Drivers of the All-New City will be delighted by its new and multi-format compatible entertainment feature - the revolutionary 'Advanced Audio' digital media system is developed to be compatible with iPod, MP3 players and other sources of digital audio sound to allow driver and passengers to enjoy entertainment at their convenience. All major operations, such as song selection and volume adjustment, are controlled using four push buttons and a rotary selector similar to the Jog Dial function on an iPod. The system also provides high quality sound output with sophisticated acoustic tuning.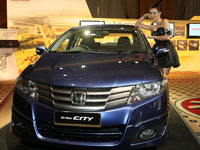 The All-New City in Deep Lapis Blue Metallic with Modulo kit.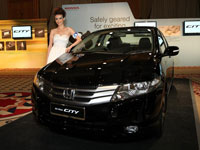 The All-New City in Crystal Black Pearl.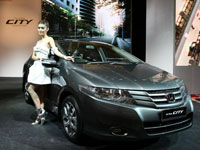 The All-New City in Polished Metal Metallic.
Honda incorporated All-New City with the revolutionary Advanced Compatibility Engineering or ACE body structure, which is an extension of Honda's G-Force Control (G-CON) technology, designed to spread out and disperse collision impact so as to limit cabin intrusion and to effectively minimise driver and passengers as well as pedestrian injuries. Other safety features include SRS airbags, active headrests to prevent whiplash injuries and ABS and EBD.
Explaining the All-New City's marketing campaign, led by the tagline Excitement in the City, Mr. Fujimoto said: "We hope to enthuse and motivate our customers to approach the All-New City with a heart of discovering the excitement of a metropolis. In line with this, we have introduced an online portal at www.excitementinthecity.com.my to share our exciting discoveries with you".
In closing to his speech at the launch, Mr Fujimoto added that local consumers' sentiments have generally become much more cautious due to the challenging global economic outlook. "With the launch of the All-New City, we hope to excite the market and create some positive vibes to the Malaysians," he said.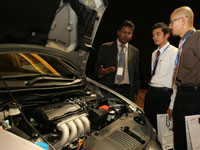 Product specialist of Honda Malaysia explaining about All-New City to invited guests.
The All-New City is now available in the 1.5-liter i-VTEC Grade E and Grade S variants at all Honda authorised dealers nationwide. While the Grade S offers essential features of the All-New City, the Grade E variant offers additional features such as paddle shift, rear reclining seat, rear underseat tray and 16-inch alloy wheels. These two variants come in a selection of five colours: Alabaster Silver Metallic, Bold Beige Metallic, Polished Metal Metallic, Crystal Black Pearl and Deep Lapis Blue Metallic, of which the last two are new colours.
Starting today, customers can visit all authorised Honda showrooms nearby to view and test-drive the All-New City. For more information, please call Honda Toll Free number at 1-800-88-2020, or log on to www.excitementinthecity.com.my for more details.