Petaling Jaya, 17 March 2008 - Malaysia will have reasons to rejoice as the latest generation of one of the world's bestselling car models -- the Accord, will finally make its way here! The All New Honda Accord is said to move the world of mainstream transportation to a refined, dynamic and sophisticated direction with an expanded range of innovative technologies designed for more power, greater fuel efficiency and enhanced safety across the entire line-up of Accords.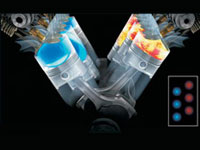 All New Honda Accord Variable Cylinder Management (VCM) Technology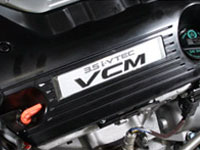 All New Honda Accord 3.5 litre i-VTEC V6 Engine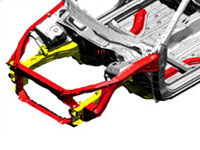 All New Honda Accord Shift Hold System - With explanation
According to Honda Malaysia Managing Director and Chief Executive Officer, Mr. Atsushi Fujimoto, the eighth generation Accord was designed to exceed expectations with premium technologies. "Amongst the technical innovations," he said, "are the fuel economic and environmental Variable Cylinder Management (VCM) System; the handling refining Variable Gear Ratio (VGR) Steering; the power transition-easing Shift Hold System; and further enhanced safety features".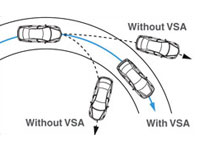 All New Honda Accord Vehicle Stability Assist (VSA)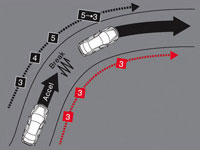 All New Honda Accord G-Force Control (G-Con) - Close Up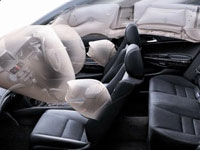 All New Honda Accord Advanced-6 Airbag System
The All New Accord has three variants: the enhanced 2.0-liter and 2.4-liter i-VTEC engines, which provide balance between performance and fuel economy; and the new 3.5-liter i-VTEC V6 engine, the first ever and most powerful in the Accord line-up. The 2.4-liter i-VTEC model at 180 ps has the highest engine power of its class.
Touching on the key improvements of the 2008 Accord, Mr. Fujimoto said: "To the delight of our customers, it will be more powerful, even more fuel-efficient than before, and all engines will come with 5-Speed Automatic Transmission to offer a smoother drive".
The 3.5-liter V6 model will incorporate the Honda developed Variable Cylinder Management (VCM) technology, which enables the achievement of an optimal balance between fuel economy and power. It does so simply by operating in a six-cylinder mode for power, and four- and three-cylinder modes for efficiency - this means the engine has the ability to switch between the three modes of combustion according to driving needs and situations.
For instance, when a car climbs uphill or accelerates, high output is required. In this situation, the engine will operate on all six cylinders to deliver the required power. At moderate or high speed and climbing up mild hills, the engine will activate only four cylinders. During cruising or low engine loads, the system will isle on one bank of three cylinders.
The innovation lies in the VCM system's ability to intelligently close both the intake and exhaust valves of the cylinders that are not in use, thus pumping losses associated with intake and exhaust are eliminated, making the car more fuel efficient and environmental. To top it all, the engineering feat is achieved without affecting the driving performance of the car.
To ensure a quiet, vibration-free and seamless switch-over in cylinder operations, a noise and vibration reduction system was developed to complement the VCM technology. This innovative system consists mainly of the new Active Control Engine Mount (ACM) and the Active Noise Control (ANC).
The ACM anticipates VCM-generated vibration by monitoring changes in engine revolutions-per-minute (RPM). It then actuates two engine mounts to create out-of-phase vibration to nullify or cancel out the force of vibrations resulting from cylinder switching operations.
The Active Noise Control (ANC) cancels out booming noise relating to VCM function by emitting a sound wave with the same amplitude and the opposite polarity to the original sound from the audio sound system.
Together, the ACM and ANC functions minimise noise and vibration generated during VCM to create a smooth, disturbance-free and pleasurable drive for Accord owners.
Handling gets even more precise in the 2008 Accord with the newly improved Variable Gear Ratio (VGR) Steering, which enhances the whole driving experience in terms of performance, comfort and safety. The mechanism gives better stability for straight and high speed driving, and smoother and more responsive handling for low speed driving. A point to note is the smaller turning radius, which comes in handy especially during parking.
In terms of gear shift management, the All New Accord will feature a Shift Hold System which prevents up-shifts to higher gear (4th & 5th ) in repeated winding-road situations. Automatic transmission for all grades has this system to reduce unwanted gear shifts for more responsive and linear acceleration on winding roads and other similar situations. This reduces disturbance to the chassis and ensures strong power is available without a down shift. What this means for the Accord driver is a more confident and smoother drive without any shock caused by frequent gear shift during cornering. It also offers a comfortable ride for all passengers on winding roads.
Drivers of the new Accord will find the vehicle body more lightweight and rigid due to extensive usage of high-tensile steel, which creates an improved body for enhanced riding and handling as well as better safety (collision) performance.
Through a comprehensive and evolving approach to vehicle safety, Honda seeks to provide a high level of occupant (driver and passenger) and pedestrian protection in the All New Accord. The eighth generation model will integrate sophisticated safety technology including G-Force Control Technology, the revolutionary Advanced Compatibility Engineering (ACE) body structure, Pedestrian Safety features, Advanced Airbags System and Vehicle Stability Assist (VSA).
Honda's G-Force Control (G-CON) is an advanced technology developed to control the G-forces or crash energy that the driver, passenger, car and even pedestrian can experience during a collision.
The ACE (Advanced Compatibility Engineering) body structure is an extension of G-CON technology designed for better front collision performance. As opposed to a conventional body structure which focuses the collision energy primarily on two side frame rails, the ACE body design helps to spread out and disperse the impact and energy over a larger surface, thus limiting cabin intrusion to effectively minimise injuries.
Honda's commitment to safety also includes the most vulnerable of people traveling on roads - the pedestrians. To better understand the real-world dynamics of pedestrian related traffic accidents, Honda created the world's first, most advanced pedestrian dummy to help develop technologies to improve pedestrian protection and reduce life-threatening injuries.
In case of an accident, the All New Accord hood and fender brackets were designed to deform if contacted by a pedestrian. The hood hinge, wiper pivots and windshield base have either energy absorbing, bending or break-away structure to help decrease injury level.
Additional safety features in the 2008 Accord includes an Advanced 6 Airbag System with two side curtain airbags, two sets of front dual stage airbags and two side airbags with Occupant Position Detection System (OPDS) in the 3.5-liter V6 model; and the Vehicle Stability Assist (VSA) to enhance active safety of front wheel drive cars in both the 3.5-liter V6 and 2.4-liter models.
The eighth generation Accord is not only more powerful and fuel efficient, it is also an environmental-friendly vehicle. It meets the Euro 4 standard in terms of emission, and it uses more environmental-friendly materials -- such as materials with reduced Volatile Organic Compounds (VOC) and Polyvinyl Chloride (PVC) contents in the car interior fittings and body undercoating.
With such exciting and innovative customer-driven technologies, the soon-to-launch All New Accord is no doubt the most dynamic of its line-up ever to be designed and introduced. Keep a lookout for it as it hits the road in April 2008!
For more information, please call Honda Toll Free number at 1-800-88-2020, or log on to Honda Malaysia's website at www.honda.com.my for more details.