Petaling Jaya, 19 March 2008 - In celebrating the F1 fever in Malaysia, Honda Malaysia brought in the Honda Racing F1 Team, and the Super Aguri F1 Team to meet media and Honda customers at a party today.
Honda Racing F1 Team was represented by driver, Mr. Rubens Barrichello, Test Driver, Mr. Alexander Wurz and Mr. Luca Filippi from the Honda Young Driver Programme while Team Principal, Mr. Aguri Suzuki and drivers Mr. Takuma Sato and Mr. Anthony Davidson represented Super Aguri F1 Team.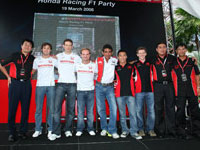 Two teams with Honda Malaysia's Management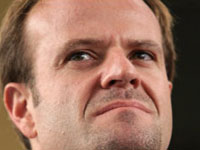 Rubens Barrichello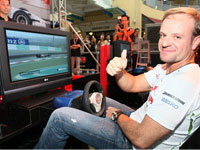 Rubens at the F1 Simulator
In his speech, Mr. Atsushi Fujimoto, Managing Director and Chief Executive Officer of Honda Malaysia Sdn Bhd said, "This year, Honda Racing F1 Team brought in a few new faces and continues the challenge in motorsports. We believe that the Honda Racing F1 Team will soar to a higher level of achievement under the guidance of our new Team Principal, Mr. Ross Brawn.
Our founder, Mr. Soichiro Honda once said, "Without racing, there is no Honda". Racing and motorsports are in Honda's DNA. It is Honda's reasons to exist. Overcoming challenges in motorsports is not new to Honda. Since our first entry into Grand Prix in 1964, we have come far on victories, but it is through defeats that we advance further and challenge ourselves even more. Our main focus is to keep moving up to the next level and to maintain our Challenging Spirit in a gruelling sport," added Mr. Fujimoto.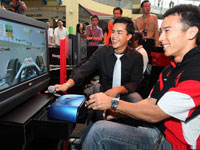 Takuma Sato at the F1 Simulator, Honda 2008 F1 Party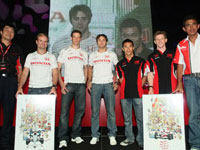 Honda Racing F1 Team and Super Aguri F1 Team Receiving Token from Fujimoto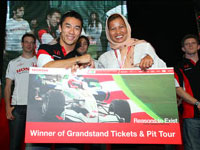 Lucky Honda Customer Wins F1 Grandstand Ticket & Pit Tour
At the party, the Honda Racing F1 Team members shared their experience and features of the new RA108 with guests and media. Honda's customers and media had fun when they were invited to challenge the F1 drivers at the F1 simulator.
Honda Racing F1 Team starts off the 2008 season by reaffirming its commitment to the pursuit of its world championship ambitions as Ross Brawn takes over as Team Principal.
The new RA108 race car uses a completely new concept to deliver stable, superior aerodynamic performance but maintains its environmental message. The team's revised 2008 livery marks the start of the next exciting phase of the Honda Racing F1 Team's long term environmental initiative, Earthdreams. The Honda Racing F1 Team's ethos is one of dedication to sporting excellence, borne out of 40 years of Honda's racing heritage and a shared responsibility for change in our society.
35 year old Honda Racing F1 Team driver Rubens Barrichello, one of the most experienced drivers in F1 history said, "I am very much looking forward to the 2008 season. The arrival of Ross Brawn to lead the technical team is very welcomed, and Jenson and I will do our very best again this season as we aim to achieve better results in this year's championship."
Honda will continue to pursue the ultimate potential of motorsports and share its excitement with people throughout the world.