Petaling Jaya, 21 May 2008 - Six judges came together for a whole day week to peruse through a total of 616 entries received for the "The Environment and I" essay and photo contest which was held from April 1 to May 15, 2008 to create further awareness on caring for the environment.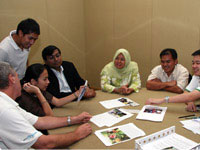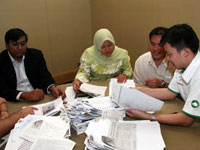 The contest received overwhelming response from primary school students all over Malaysia, some from as far as Sabah, Sarawak, Kedah and Terengganu. Many schools also participated in the contest as a class project.
The judges for the contest comprised of environmental editors from The Sun, Utusan Malaysia and Kosmo as well as personnel from Honda Malaysia and WWF-Malaysia.
"Overall the entries showed that the students have some level of awareness and idea about the environment. A lot of the essays focused on recycling as an environmental activity and this shows that they indeed have knowledge of how they can assist in caring for the environment."
It was apparent that the winner did a lot of homework and put effort into composing the essay. The essay explained about the environment, and gave practical suggestions of what we can do to conserve the environment, for example reduce the use of materials made by wood such as tissue and papers, collecting old newspapers for recycling purposes, bringing her own container for drinks and food instead of buying drinks and food from outside," said Rohana Man of Kosmo who was one of the judges.
The "Environment and I" contest is part of Honda Malaysia's effort to increase awareness and build understanding on environment conservation and extinction especially amongst primary school students. Through this contest, Honda Malaysia hopes to motivate students to care for the environment.
The contest was opened to all primary school students in Malaysia. Students were encouraged to share their ideas on conserving the environment that they could practise in their daily lives. Students were required to submit an essay with a photo in order to be qualified for participating in the contest.
Honda Malaysia is sponsoring the "Save the Sumatran Rhino" programme which began in January 2006 where the company pledged RM5 million over 5 years to WWF-Malaysia for rhino conservation efforts in Malaysia. Being the first corporate to initiate rescue efforts for the Sumatran rhinos, Honda Malaysia is trying to give back to the society and environment as Honda strive to become a company that society wants to exist.