Petaling Jaya, 5 June 2008 - With a total of 34-strong members, an additional 4 from last year's 30 members, the Honda Malaysia Racing Team (HMRT) officially kicked off the preparations for Merdeka Millenium Endrance (MME) race for 2008. The burning excitement and fervent team spirit was contagious during the simple, yet meaningful ceremony at Honda's manufacturing plant in Alor Gajah, Malacca.
Present to motivate the team as they face another exciting and challenging year in the MME was Mr. Atsushi Fujimoto, the HMRT Team Principal who is also Managing Director and Chief Executive Officer of Honda Malaysia. "We are excited to support the HMRT in their race in MME for the 6th year as racing is in Honda's DNA and it is our reasons to exist. Even here in Malaysia, we encourage our associates to compete at the highest level of local endurance race as the challenge will enable them to improve on their skills. This will then be translated into the improvement of the quality of our products as these HMRT members apply their learnings and skills into their daily work at the plant."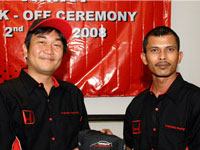 Fujimoto presenting HMRT Cap to new member.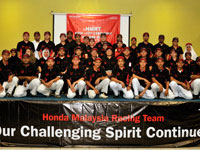 HMRT Kick Off To Another Challenging Year in MME.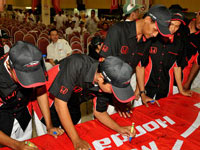 HMRT Members Signing on the Banner.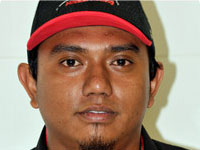 HMRT Newbie Mohd Faizul Mohd Ghazali.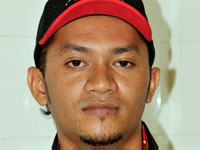 Veteran HMRT member, Irwan Abdul Hamid.
In motivating the HMRT members, Mr Fujimoto added, "As we aim for the Overall Title this year, let us also remember the objectives of HMRT which is to build team spirit and motivation. Each member of HMRT has an important role to play in the team. Through HMRT, I hope that everyone will learn not only the technology but also teamwork and the Challenging Spirit in racing."
Of the 34 members in Honda Malaysia Racing Team (HMRT) this year, 29 are new members. The existing 5 members are eager to build on what they have achieved and learnt last year and to pass on their knowledge to the new members.
A veteran HMRT member, Irwan Abdul Hamid who is a Technician in the Facility Maintenance, Manufacturing Division said, "I was one of the fortunate ones who were selected to go for training in Japan last year for HMRT and my area of training was in chassis. I learned new things directly from the Japanese technicians especially new techniques and the correct way of working and tool handling. And most important of all, they taught us management. For example, when we want to do anything, we need to think ahead so that work becomes more systematic. We develop ourselves to plan and manage our own work process and flow for better results."
"HMRT also taught us to always put safety first, in particular to think of others when we are doing anything. So it is not just our own safety that we need to think about, we also need to take care of the safety of all our team mates.
"The challenging spirit of motorsports as ingrained in Honda is the main reason why I am participating again this year. I want to challenge myself to see how far we can go especially this year whereby we will receive minimum supervision from outsiders such as EKS or Mugen. So it is really a challenge to manage our own selves, and as a senior in HMRT, we have to take ownership to share with the juniors in the team," added Irwan.
Newbie to HMRT Mohd Faizul Mohd Ghazali from the CVJ division said, "I love motorsports and have applied three times to be part of HMRT, and I am finally selected to be part of the team this year! Naturally I am very excited and the challenging spirit of motorsports really motivated me to join HMRT. I know being in HMRT requires punctuality and a lot of discipline and I believe this training will be carried on to my daily work after MME. I can't wait to share my experiences in HMRT with my fellow associates especially in the CVJ section because the CVJs we produce are for export and high standard is required for our work. To be given the opportunity to rise to the challenge makes me very proud and I am determined to show that Malaysians can overcome challenges and do good work."
At the MME 2007 last year, Honda Malaysia Racing Team (HMRT) raced home to their 5th consecutive victory. The win which came via Car 27 was made more memorable as it had to fend off stiff competition from fellow HMRT challenger, Car 26 for the Class A title. While both cars were Civic Type R, Car 26 was locally built at Honda's Melaka plant by HMRT members.
In Malaysia, Honda is proud to be competing in the MME race as it is a commitment to the highest level of product technology using local expertise. Besides, the challenges that comes with this endurance race for the HMRT members are all part of Honda's DNA. HMRT will once again bring the Honda's "Challenging Spirit" to MME 2008 this year!