Petaling Jaya, 2 February 2007 - Honda Malaysia Sdn Bhd today introduced the enhanced Honda Accord VTi-S, which will be made available for bookings at all Honda showrooms from today onwards.
The Honda Accord 2.0 VTi-S is built to blend the desires for excitement, style, grace and agility. This version adds luxury into the equation, being the first 2.0 litre i-VTEC Accord to come with lush leather seats, dual zone automatic climate control system, 6 CD premium audio system, 8-way powered driver seat and many other lavish features.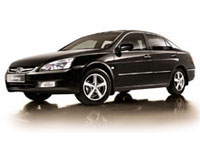 Honda Accord 2.0 VTi-S
Honda Accord 2.0 VTi-S
Honda Malaysia Sdn. Bhd.'s Chief Executive Officer and Managing Director, Mr Yasuhide Mizuno said, "We are pleased to launch the enhanced version of the Accord VTi-S. Honda believes in creating products that are of the highest quality yet at a reasonable price to our customers. The Accord VTi-S is synonymous with our high quality standards and provides affordable luxury to our customers."
"Honda aims to create more choices to fulfill our customers' needs in line with our commitment to delivering new and value added products to our customers. Since its launch in the year 2003, the Accord has been well received by Honda customers for its exterior, interior and performance. Hence, this Accord 2.0 VTi-S is created for Honda's customers to offer additional features that can fulfill their need for maximized comfort," added Mr. Mizuno.
The Accord VTi-S is an enhanced version of the 2.0 litre Accord with additional features that previously was only made available in the 2.4 litre and 3.0 litre Accord. The Accord 2.0 VTi-S still maintains the high performance i-VTEC engine, streamlined aerodynamics and a host of innovative features delivering a stunning drive and a quality finish that is distinctively Honda.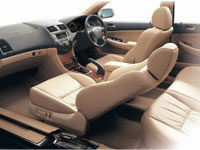 Honda Accord 2.0 VTi-S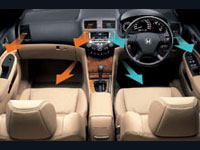 Honda Accord 2.0 VTi-S
Despite having a smaller engine as compared to the 2.4 litre and 3.0 litre, it has all the other exquisite features that makes it a uniquely prestigious car.
The elegant interior of this Accord has these additional features:
a) 8-Way Powered Driver's Seat
b) Dual-Zone Climate Control System
c) Leather Seats
d) Leather Steering
e) Leather Shift Knob
f) 6-CD Premium Audio System
The luxurious Accord VTi-S is available in 4 colors, which are Bronze Silver Pearl, Nighthawk Black Pearl, Alabaster Silver Metallic and Opal Beige Metallic. This covers all colors available for the current Accord 2.0 litre, except Silverstone Metallic, which is only available for the Accord 3.0 litre V6.
The Accord 2.0 VTi-S will be made available at all Honda dealers nationwide. Value-added luxuries for its class, the on-the-road price is RM143,800 inclusive of road tax and insurance. Go to your nearest Honda showroom and check out this latest edition for yourself!