Petaling Jaya, February 5 - Honda Malaysia's "Save the Sumatran Rhino" project started off the new year with seminars at four primary schools in Kuala Lumpur and Petaling Jaya. These seminars, conducted by qualified WWF personnel, were aimed at creating awareness and educating school children regarding the plight of the Sumatran Rhino and environment conservation.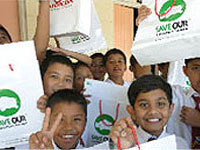 Klang Valley School Childrens
The main objectives of these seminars at primary schools, starting with Klang Valley, are to instill a sense of love and care for the environment amongst the school children, who are also the future custodians of our environment.
The 30 minutes seminars consist of a short introduction by the speaker, educational video on environment conservation, interactive Q&A session, and distribution of 'fun and learn' leaflets and premiums such as stickers, notebooks, badges and posters.
Commenting about this project, Managing Director and Chief Executive Officer of Honda Malaysia, Mr Yasuhide Mizuno said, "The commitment from Honda Malaysia in this "Save the Sumatran Rhino" project is not limited to the pledge of RM5 million over 5 years to WWF-Malaysia. We want to participate and contribute also in raising awareness and educating the future generation and Malaysian public on environmental and conservation activities through various activities such as these school seminars."
"Globally, Honda tries to give back to the society and environment as we strive to become a company that society wants to exist. Here in Malaysia, we try to do the same," added Mr Mizuno.
These seminars were started off at four primary schools in Klang Valley since January 2007. Honda Malaysia hopes to continue this educational and awareness seminar to more primary schools in central region and expand it to other region in Malaysia in the near future.
Speaker Ahmad Zafir Abdul Wahab who is a Programme Officer with WWF-Malaysia said, "The students are very attentive and responsive towards the seminar. They are very eager to learn more about environmental conservation and the Sumatran Rhino. It has been a pleasure conducting the seminars."
Headmistress from Sekolah Kebangsaan Seri Hartamas, Puan Awasilasati Kitajriah Bt. Baharum said, "We are very happy that Honda chose our school to conduct the seminar. We do receive support from the corporate sector to educate the students about environmental conservation and other causes. I can see that the students are very excited about this seminar."
Shaun Leow Xie Shern, 10 years from Sekolah Kebangsaan Seri Hartamas said, "I learnt a lot today about how I can help to save the environment and the Sumatran Rhino. I'm happy to know that by not wasting water, recycling paper, plastic and bottles, I can help to care and preserve the environment. It is so important! I will also go home and tell my parents what I have learnt today."