Petaling Jaya, March 1 - The all new Honda CR-V which is expected to be introduced in Malaysia soon has been receiving rave reviews and encouraging booking in the countries which the model has been launched.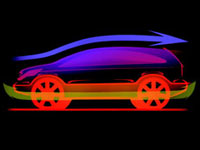 All new CR-V
Built on the concept of carefree, anywhere and anytime reliable comfortable mobility, the first generation of CR-V (which stands for Comfortable Runabout Vehicle) was launched in 1995. The CR-V was the pioneer in the compact Sports Utility Vehicle (SUV) segment, which set a new benchmark for a vehicle that fulfills the active functionality of a utility vehicle in the comfort of sedan driving.
More than 2.5 million units of the first and second generation of CR-V can be found on the roads of 160 countries worldwide today, including close to 13,500 units in Malaysia.
This all new CR-V was first unveiled at the Paris Auto Salon in September 2006. As at the end of last year, this third generation CR-V has been launched in the USA, Japan, Korea, Singapore, New Zealand, Brunei, India and Thailand. In the USA, 20,000 units of the new CR-V were booked by the customers within the first month of launch.
"From the exterior design to the interior spaciousness, the all new CR-V is a pleasant surprise. The vehicle will be powered by Honda's reliable engineering for drivability and performance, providing outstanding sedan-like riding comfort," said Mr Yasuhide Mizuno, Managing Director and Chief Executive Officer of Honda Malaysia Sdn Bhd.
"The all new CR-V will continue to lead in innovative performance efficiency and fuel economy. Honda has developed a totally new engine for the CR-V - the 2.0-L i-VTEC engine - which gives optimum power output at urban driving as well as under heavy load," said Mr Mizuno.
He added, "Honda is dedicated to producing vehicles that are meant for passengers. Comfort for the vehicle's occupants will always be as important as the performance of the vehicle itself. This is one of clear distinction with Honda."
"The all new will be available in five colours. We expect the all new CR-V to be just as successful like its predecessors and other Honda models in Malaysia," Mr Mizuno said.
The all new CR-V is already creating much excitement and anticipation with blogs and websites posting spy shots of the vehicle. Launch of the SUV has been scheduled for March 8, 2007.
"Look out for this new car. I am confident it will impress Malaysian motorists," Mr Mizuno said.