Petaling Jaya, 4 April 2007 – In conjunction with the F1 race at Sepang this weekend, Honda Malaysia brought in Honda Racing F1 Team and Super Aguri F1 Team to meet media and Honda customers at a party in Kuala Lumpur while spreading the F1 fever in Malaysia!
Members of Honda Racing F1 Team and Super Aguri F1 Team graced the F1 party. Honda Racing F1 Team was represented by CEO Nick Fry and drivers Jenson Button and Rubens Barrichello while the Super Aguri F1 Team was represented by Team Principle Aguri Suzuki and drivers Takuma Sato and Anthony Davidson.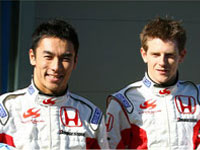 Honda spreads F1 fever to Malaysians
Honda spreads F1 fever to Malaysians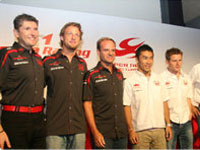 Honda spreads F1 fever to Malaysians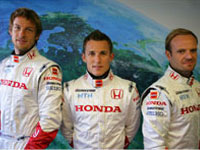 Honda spreads F1 fever to Malaysians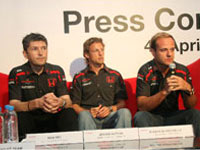 Honda spreads F1 fever to Malaysians
In conjunction with F1 and in appreciation of Honda's customers in Malaysia, Honda Malaysia extended special invitations to 30 customers for an upclose experience with the two teams. These 30 customers were selected from amongst 100 Grand-Stand ticket winners from a contest which was conducted by Customer Relations Department in the month of March. To top it off, 10 of them were chosen during the lucky draw at the celebration to participate in a pit tour in Sepang this Sunday specially organised by Honda Racing F1 Team.
Honda's first entry into Formula One came in 1964 with the RA271 engine, just after Honda's first automobile production in 1962. In only their second year of competition, Honda reached the coveted top step of the podium with the RA272 at the 1965 Mexican Grand Prix. In 1967, the Honda RA300 won the 1967 Italian Grand prix in its inaugural F1 race. Honda competed as a constructor in 47 Grands Prix in the 1960s.
Years down the road, Honda's radical engine performance still dominate F1. In 1988, Honda's V6 engine was the talk of F1 as it brought Honda 15 victories from 16 starts. And in 2006, Honda's RA806E V8 engine powered Jenson Button to victory at the Hungarian Grand Prix. This year, Honda will be challenging for the coveted F1 Championship Drivers and Constructors titles with a brand new engine, the RA807E, featured in the RA107.
To date, Honda has amassed 72 Grand Prix victories and captured no fewer than 11 FIA Formula One World Championship titles – six constructors' and five drivers' crowns. That is a remarkable record that all involved in the Honda Racing F1 Team are determined to add to in the years ahead.
The Honda Racing F1 Team's focus is set towards winning 2007 Formula 1 World Championship with their latest car. Both drivers, Jenson Button and Rubens Barrichello produced impressive performance last year and will be working to fulfil Honda's desire and determination to achieve victory in 2007.
Honda Racing F1 Team driver Jenson Button said, "My desire is to win the World Championship and to win racing in a Honda. As an F1 driver, you look to surround yourself with the very best people in the sport. At Honda, we have people who are always thinking ahead and thinking differently, and the 2007 concept is evident of this."
On behalf on Super Aguri F1 Team, Aguri Suzuki expressed confidence; "I feel a different pressure from last year now that we have to show our racing. Though we are a small team, we will do our best. We have worked well in pre-season testing and so we should be able to compete at a higher level."
Super Aguri F1 Team looks forward towards achieving greater results in this year's Championship as they have greatly gained from the experiences of their first Formula 1 season.
Mr Atsushi Fujimoto, Managing Director and Chief Executive Officer of Honda Malaysia Sdn Bhd said, "Honda has a rich racing pedigree in many different motor sport arenas. As Mr. Soichiro Honda once said, "Without racing, there is no Honda". Racing and motor sports is in the core of Honda's DNA. It is Honda's reason to exist".
"We are glad to be able to part of this exciting event in Malaysia. And we are proud of both the Honda Racing F1 Team and the Super Aguri F1 Team. We at Honda Malaysia are very much looking forward to seeing the two teams in action in Sepang this weekend. We are confident the team work, drive to excel, passion and the Challenging Spirit will yield outstanding results for Honda Racing F1 Team and Super Aguri F1 Team in F1 2007," Mr Fujimoto added.
Honda will continue to pursue the ultimate potential of motorsports and share its excitement with people throughout the world.