Petaling Jaya, 9 April 2007 – In a display of commitment towards achieving No. 1 in customer satisfaction, Honda treated 10 ecstatic Honda customers to a pit tour specially organised by Honda Racing F1 Team in Sepang just before the start of the F1 race yesterday. These 10 lucky customers were selected from amongst 30 Honda customers from a lucky draw held last week at the Honda Racing F1 Party 2007.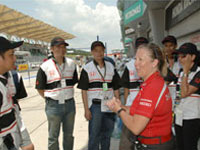 Honda Racing F1 Party 2007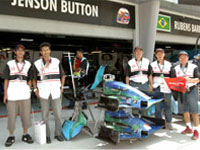 Honda Racing F1 Party 2007
Besides winning a tour of the pit, these 10 customers also had their Grandstand tickets upgraded to the Emerald seats.
One of the lucky customers, Mr. Jay Raj, 41, had this to say about his experience at Sepang yesterday, "It was a wonderful thing that Honda did, and as a customer, I feel privileged to be able to visit the pit. It was a rare opportunity to witness what goes on inside the garage and I believe it was not easy to plan for that. I must say that Honda goes the extra mile to share their passion and to give firsthand experience to their customers to experience what Honda is all about – the quality, technology and power that goes into everything the company does."
Another customer, En Mohd Farid bin Rahmat, 34, added, "Thanks to Honda, lucky customers like me managed to fulfill our dreams of witnessing, with our own eyes, the most expensive sports event hosted by our country. My dreams of being with the team drivers and team principal as well as the dream of a "pit lane" visit were fulfilled through the F1 Party and the pit tour. I witnessed the team's relentless effort; dedicatedly pushing themselves to ensure the success of the team."
Mr Atsushi Fujimoto, Managing Director and Chief Executive Officer of Honda Malaysia Sdn Bhd said, "Motorsports is more than lifting the Championship title, it is also an arena to face and overcome challenges, to build team spirit and to develop technology that are unrivalled. Taking the inspiration from the Honda Racing F1 Team at Sepang International Circuit yesterday, we at Honda Malaysia continues to challenge ourselves to provide Malaysians with products of the highest quality yet at a reasonable price. We are committed to go the extra mile and to seek every opportunity to reward and appreciate our customers in our quest to achieve No. 1 in customer satisfaction."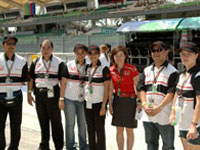 Honda Racing F1 Party 2007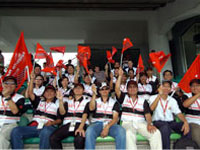 Honda Racing F1 Party 2007
The Honda Racing F1 Team drivers Jenson Button and Rubens Barrichello brought their cars home in 11th and 12th places in yesterday's Malaysian Grand Prix. Both RA107s ran faultlessly in the Malaysian GP, giving the team its second two-car finish of the year.