Petaling Jaya, 16 April 2007 – Honda Malaysia today introduced an enhanced version of the multiple awards winning 8th generation Honda Civic 2.0S.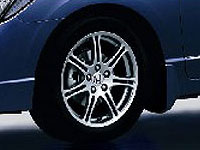 Honda Civic 2.0S
Honda Civic 2.0S
The 'Advanced Dynamic Sedan' is made even sportier and exciting now with new 17" alloy wheels, complete with upgraded high performance Michelin Pilot Preceda tyres. With the new wheels, the new Honda Civic 2.0S is set to give an even more pleasurable driving experience. The new Honda Civic 2.0S also comes with the option of a spanking new colour, the Sparkle Gray Pearl.
Honda Malaysia Sdn. Bhd. Chief Executive Officer and Managing Director, Mr Atsushi Fujimoto said, "The 8th Generation Civic has been very well received by Malaysians. We value our customers' feedback very much and we continuously seek every opportunity to provide total customer satisfaction. Many of our customers expressed that they like the sporty design of the 8th Generation Civic, and the stylish looks. Hence, we decided to launch the enhanced version of the Civic 2.0S. The idea behind this new model is to continuously improve our products to increase customer satisfaction."
"The new Civic 2.0S retains most of its much loved features, both interior and exterior. The package with stylish curves and futuristic looks which was introduced to Malaysians in 2006, just got better! The Civic 2.0S is synonymous with our high quality standards and trendy design," added Mr. Fujimoto.
The sporty headlamps and multiplex meter that is so uniquely 8th Generation Civic continue to captivate in this version of the Civic 2.0S.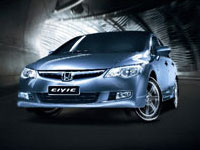 Honda Civic 2.0S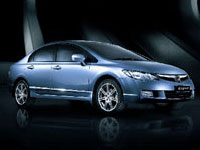 Honda Civic 2.0S
Since its introduction, the 8th Generation Civic can now be found on the roads of 152 countries worldwide today, including close to 10,000 units in Malaysia since its launch in March 2006.
In 2006, the Honda Civic received a total of 40 awards all over the world in countries such as Japan, USA, Taiwan, Canada, United Kingdom, Brazil and Malaysia. In Malaysia, the 8th Generation Civic won the only two Car of The Year (COTY) Awards in this country i.e. the NST-Ambank COTY and the Autocar Asean COTY, as well as the JD Power Asia Pacific Initial Quality Study (IQS) Award.

The new Civic 2.0S will be made available for bookings at all Honda dealers nationwide from April 16, 2007. The on-the-road price is RM128,800 inclusive of road tax and insurance for Peninsular Malaysia. Check out this latest edition at your nearest Honda Showroom now!