Kuala Lumpur, 7 May 2007 – Honda Malaysia Sdn. Bhd. launched its 2-day Safety Driving Course this year as a continuous commitment to enrich the lives and meet the need of its customers, and continuous effort in raising awareness of the importance of safety driving to the society. The course trained a total of 60 drivers whereby lessons learnt are also shared with participants' friends and families. The Safety Driving Course was held for the 4th time as Honda continues to aim for customer satisfaction No. 1.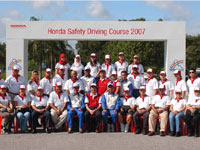 A Lifetime Worth of Safe Driving Lesson for Honda Customers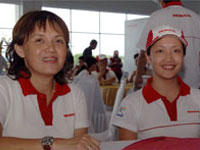 A Lifetime Worth of Safe Driving Lesson for Honda Customers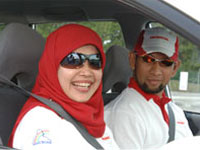 A Lifetime Worth of Safe Driving Lesson for Honda Customers
"Until more people address the issues and learn to make the initiatives to safer driving, we will continue our efforts to reinforce safety driving exercises to the society" said Chief Executive Officer and Managing Director of Honda Malaysia, Mr. Atsushi Fujimoto in his official opening speech.
The objectives of the safety driving course stand the same every year, it was initiated with the aim of addressing the human factor in driving to support its dream towards zero road accidents.
This initiative goes hand-in-hand with Honda's tackle on the machine factor by producing cars with advanced safety technologies through innovative research and development. It is a dream at Honda since early 60s, when the Office of Safe Driving Promotion Operations in Japan was established to promote safety driving habits.
The course was made available to both male and female participants this time around as opposed to last year when it was specially tailored for females only. The course involved both practical and theory sessions Apart from the course's syllabus that covered Traffic Accidents & Preventions; Driving Posture for Optimal Vehicle Control; Emergency Brake with ABS; Brake & Avoid; Danger Reaction and Avoidance and Cornering, new techniques and theories were adopted such as the six adverse conditions that lead to the cause of traffic conditions and the understanding of relationships between the driver and vehicle limitations. Each group of 2 participants was assigned with one instructor, allowing personal attention for effective learning.
"Many drivers think they have all the practice and skills equipped to avoid accidents" said Chief Trainer, Mr. Jonathan Tang. When asked about a sound advice on prevention, "Always go back to the basics where you keep reminding yourself to be cautious. Frequent drivers have their own habitual manner of driving and it makes them less defensive on the road" Mr. Jonathan Tang added on. The sessions reminded them to be alert on unforeseen things and boosted higher confidence in the participants' safe driving skills.
The Honda Safety Driving Course 2007 was conducted by Bukit Batok Driving Centre (BBDC) renowned trainers – Mr. Jonathan Tang, Chief Trainer; Mr. Umesawa Katsuaki, Trainer; Mr. Masagoes Mohd Fadil, Trainer and Mr. Mohamad Azhar Jaffar, Trainer. Held at the Asia Pacific Auction Centre, Subang, many professional drivers have secured the necessary knowledge and skills to prevent traffic accidents.
BBDC has been working with Honda in the raise of awareness for the third consecutive year. Having started its operation in 1990, BBDC remains as the biggest driving school in Singapore. They have trained a total of 2700 learners every year; most of them are Honda cars and motorcycles owners. Like Honda, BBDC has a global connection. It is part of the worldwide network of driving schools centres call "Rainbow Driving School".
Shirl, a participant and proud owner of Honda Civic from Cheras, who was here with her mother shared this. "This course is refreshing and it is a useful bonding session with my mom. I find it very beneficial especially for female drivers to learn more on safety skills. The course has opened our eyes in identifying the threats of safety and I will apply the practical training I've learnt from now onwards!"
Besides attending the Safety Driving Course, participants were given the opportunity to test drive the whole range of Honda models such as The All New CR-V, Civic, Odyssey, Accord, Stream, Jazz and City. This year's participants were very lucky as they were also given the chance to test drive exclusive Honda models which are not available for test drives in the market such as the Integra Type-R, Legend and MDX. These added values in the course again demonstrated Honda's aim towards achieving No. 1 customer satisfaction.