Kuala Lumpur, 9 May 2007 – Honda Malaysia Sdn Bhd was presented with the Reader's Digest Asia Gold Trusted Brand Award 2007 in the car category in Malaysia, during the Reader's Digest Asia Trusted Brands Award ceremony held at KL Hilton recently.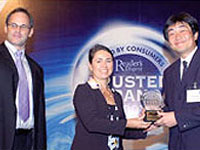 Asia Gold Trusted Brands Award
Honda is one of the few car brands that were presented with the Reader's Digest Asia Gold Trusted Brand Award 2007 out of a total of 23 other mentioned car brands measured in the Malaysian market. Awards were presented to brands that top the charts in their respective categories, calculated based on an annual survey that measures consumers' brand preferences. The six criteria named in the survey assigned with a score by consumers include: Trustworthiness, Credible image, Quality, Value, Understanding of Customer needs, and Innovation.
This award proves Honda Malaysia's commitment in understanding and recognizing the ever changing needs and expectations of customers. It is proof of Honda and its partners' success in meeting customers' expectations in quality, cost and delivery. In line with the aim to emerge as No. 1 in Customer Satisfaction, Honda Malaysia has also gained other recognitions such as the Initial Quality Study (IQS) by J.D. Power where the 8th Generation Honda Civic was ranked No. 1 in midsize segment.
Chief Executive Officer and Managing Director of Honda Malaysia, Mr. Atsushi Fujimoto stated on winning this award, "We are honoured by this recognition, as it is testimonial to Honda's continued efforts in fulfilling customers expectations, in line with the organisation's continuous goal of setting the benchmark in Customer Satisfaction among its competitors. We will continue to commit in achieving brand satisfaction at the top of our customers' mind."
Reader's Digest is one of the most widely read English-language paid publications in Malaysia popular among the affluent consumers, with a readership number of 447,000 adults in West Malaysia alone. For the Reader's Digest Trusted Brand Award, Reader's Digest conducts an extensive poll of its millions of readers Asia-wide to determine the most favoured brands by consumers in Malaysia, Hong Kong, India, Philippines, Singapore, Taiwan and Thailand. Awards are made in each market (country) as well as on a regional basis. Results are based solely on these thousands of votes across the region, and are ensured of accuracy and integrity by Nielsen Media Research.