Alor Gajah, 14 May 2007 – Honda's Pegoh Plant in Alor Gajah which assembles Complete Knock Down (CKD) Honda cars for the Malaysian market and Constant Velocity Joint (CVJ) for export, marked the shipping of its 1,000,000th set of CVJ last Friday, May 11.
Speaking at the ceremony which marked this significant milestone, Managing Director and Chief Executive Officer Mr. Atsushi Fujimoto said, "Honda always emphasises the importance of quality control in products and manufacturing processes. This stringent quality control applies not only to the production of cars but also to the production of parts for internal use as these parts will ultimately affect the overall quality of Honda cars."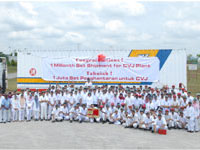 1,000,000
th
Constant Velocity Joint (CVJ) Set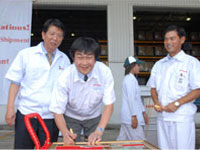 1,000,000
th
Constant Velocity Joint (CVJ) Set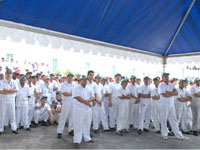 1,000,000
th
Constant Velocity Joint (CVJ) Set
"Indeed, producing and exporting this 1 millionth set of CVJ is yet another milestone for us. More importantly, I am pleased to note that this marks the trademark of Honda's Challenging Spirit and the ability of our Pegoh Plant to deliver in producing CVJ which meets the strict quality management system. In our aim towards achieving no. 1 in customer satisfaction, Honda Malaysia will continue to place emphasis on the quality of our products," added Mr. Fujimoto.
Commonly known as driveshaft, the CVJ is a mechanical device that is integral in the transfer of power from the engine to the wheels. A high quality CVJ should be able to withstand intense torsion and shear stress. As such, the CVJ is one of the most critical components of an automobile and is subjected to high quality control.
Among the entire Honda manufacturing bases worldwide, Honda Malaysia's Pegoh Plant is the 4th base after Japan, USA and Belgium selected for production of CVJ components. Honda Malaysia exported its first shipment of CVJ in November 2002. Honda's CVJ production capacity of 180,000 sets per year in 2003 increased to 520,000 sets per year in 2006, of which 95% are exported.
Honda Malaysia's CVJ was initially exported to six countries and has since increased to nine countries namely United Kingdom, Turkey, Pakistan, India, Thailand, Vietnam, Philippines, Indonesia and China. This also marks the capability and capacity of the Pegoh Plant in meeting market demands for quality products.