Petaling Jaya, 21 May 2007 – Honda Malaysia Sdn Bhd organized a road trip last weekend, May 19-20 to allow customers and media to test the fuel efficiency of their i-DSI engine, under the watchful eyes of officials from Automobile Association of Malaysia (AAM).
Sixteen participants took part in the Eco-Run event called F.E.A.T., an acronym for Fuel Efficiency Automobile Test. The fuel efficiency challenge is unique as participants are required to only adhere to an average highway speed limit of 80km/hour while retaining other the attributes of an everyday-sedan such as having the air-conditioning switched on during the drive, and luggage and spare tyre in the cargo area.
Honda i-DSI Fuel Efficiency Challenge
Honda i-DSI Fuel Efficiency Challenge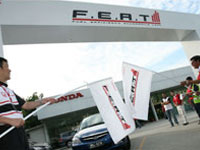 Honda i-DSI Fuel Efficiency Challenge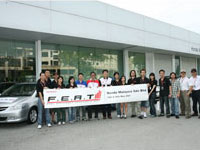 Honda i-DSI Fuel Efficiency Challenge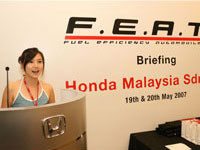 Honda i-DSI Fuel Efficiency Challenge
Reinforcing the vehicle's suitability for both genders, the 2 days F.E.A.T involved eight male drivers in 2 cars and four females in another Honda City; while the media car had four occupants. All the cars used in the challenge are using i-DSI engine.
The participants started their challenge at Honda Malaysia Sdn. Bhd. in Petaling Jaya. The test took them up to Cameron Highlands situated 5440ft above sea level, and to Bukit Merah. The drive back to Honda Malaysia Sdn. Bhd. took place after a night's rest. The challenge of F.E.A.T was to accomplish the whole route which stretched more than 660km, by using less than 42 litres or one tank of petrol.
Meant to simulate conditions similar to a vacation trip with friends or family, each car had four occupants besides a car boot full of items. Honda Malaysia also took it a step further, by filling the many interior utility space and holders with water and tit-bits for the occupants. All four team members were required to drive pre-determined legs of the event to better reflect the different driving styles of car owners.
The challenge was sanctioned by AAM and their officials were present to measure the fuel level before and after the journey.
Speaking at the flagging off ceremony, Honda Malaysia Sdn. Bhd. Managing Director and Chief Executive Officer Atsushi Fujimoto said, the i-DSI engine is developed exclusively for compact vehicles. The Honda City and Honda Jazz are available with this engine option.
"The i-DSI engine is particularly noted for its efficient fuel combustion. It gives high torque at low-to-mid speed range. Together with the 7-mode Continuous Variable Transmission (CVT) which gives smooth transmission; and electronic power steering, the fuel efficiency is even better. Today, we take up the challenge to let you, our valued customers and the media, test and experience the fuel efficiency of the i-DSI engine," said Mr Fujimoto.
"We are constantly striving to achieve Customer Satisfaction No.1 and this challenge today is another programme where we want to share with customers, the advance technology that comes with their Honda City. It is also an opportunity to further strengthen the relationship between our customers and us," Mr. Fujimoto added.
The winning team with Jimmy Ng, 27; Eric Goh, 29; Sim Chee Kun, 30 and Edwin Ng, 28 as members, used only 25.29 litres of petrol to travel 662.5km! These four winners drive home with RM4,000 worth of prizes comprising Honda watches, RM1,000 worth of petrol vouchers, Honda Racing umbrellas and caps.
An elated Sim and Jimmy Ng said, "The challenge was fun even though it is tiring as we have to train our mind to follow traffic regulations. We did a trial run before taking part in this challenge but did not have the discipline to follow it through. However, this challenge taught us that driving attitude and habit are very important when we are on the road, and we are more conscious now that how we drive will have an impact on the performance of the car as well."
Three out of the four winners are Honda City i-DSI owners and they selected the i-DSI version specifically for its fuel efficiency feature.
Angie Ng, 30 who took part in the all-female vehicle said "This has been a very good experience for my friends and I. We are very surprised that we can travel more than 660km with just one full tank of petrol. It has educated my team mates and I on how efficient the engine is, and we will apply the driving habits of this challenge to how we drive every day."
The i-DSI, which stands for Intelligent-Dual & Sequential Ignition, is Honda's second i-Series engine which employs compact combustion chambers and two spark plugs per cylinder with ignition timing individually controlled for more rapid and complete combustion.
It achieves high fuel efficiency and Honda developed it exclusively for compact vehicles. The compact, lightweight design of the engine also contributes to collision safety while also enabling a cab-forward styling.