Petaling Jaya, 21 June 2007 - In conjunction with the 2007 Autobacs Super GT International Series at Sepang this weekend, Honda Malaysia introduced the 2007 line-up of NSX-GT racing teams to meet the media at a party in Kuala Lumpur.
The pre-race bash provided guests with a chance to get up close and personal with the drivers of teams Aguri, Dome, Epson Nakajima, Kunimitsu and Rolling Stone. In addition, party guests were feted to interactive games and activities where they can play with their favourite drivers and teams.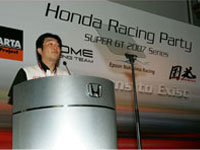 The Honda Racing Team At The Super GT Bash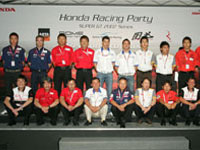 The Honda Racing Team At The Super GT Bash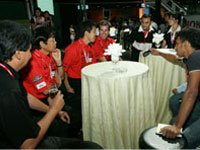 The Honda Racing Team At The Super GT Bash
Another highlight was a special performance by the original GT Queens from Japan, which was expected to be a hit with guests and fans. Regarded as a key component to the Super GT Series, the GT Queens are hugely popular in Japan where they have strong following with their own brigade of fans and are considered as celebrities.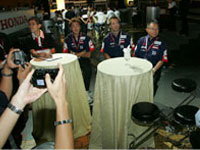 The Honda Racing Team At The Super GT Bash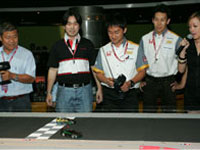 The Honda Racing Team At The Super GT Bash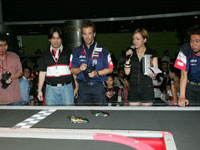 The Honda Racing Team At The Super GT Bash
This year, the Honda NSX-GT Project is working in co-operation with M'TEC Co Ltd and Dome Co Ltd to field their racing teams. These teams benefit from the V6, 3.5liter NA (natural aspiration) engines which have been further refined, using the newly-developed chassis with improved stiffness and aerodynamic performance.
Honda NSX-GT Teams' focus is set towards winning the GT championship. The Autobacs Racing team Aguri is managed by Aguri Suzuki Honda's passion for racing stems from its rich heritage of involvement in motorsports. Its founder Mr. Soichiro Honda was a dreamer and a racer. His unabated passion for motor racing continues to fuel the company's dreams in a new millennium. As one journalist said of Soichiro Honda, "He went racing because he loved it; it was in his blood. And what made Honda successful was that it was a company led by engineers. . . ."
The Honda Racing Team At The Super GT Bash
Being engineers and racers, Honda's drive to overcome engineering challenges on the track inspires new heights of creativity in the company, dismissing traditional solutions in the quest for new and more efficient designs.
Whether it is on the racing track or the production of consumer products, Honda injects the same spirit of commitment in developing innovative products that continues to challenge, motivate and push the barriers of technological limits.
"We are honoured to be part of this exciting development in Malaysia. We are equally proud of the NSX-GT teams that will be racing at Sepang this weekend. We look forward to an exciting race and we are confident that the team will push the limits and overcome the challenges to give us exceptional results." said Honda Malaysia's Managing Director and Chief Executive Officer, Mr Atsushi Fujimoto. He added that Honda will continue to grow and participate in all levels of motorsports competition.
Honda's overarching dedication to outdo itself and its deep-seated passion for racing and excellence continues to give it its reason to exist. And power its dreams for the future.