Sepang, August 27, 2007 - Honda Malaysia Racing Team(HMRT) raced home to victory again for the 5th consecutive year in the 12-hour Merdeka Millennium Endurance 2007 last Saturday, August 25, 2007.
The win which came via Car 27 was made more memorable when it had to fend off stiff competition from fellow HMRT challenger, Car 26 for the Class A title.
Car 26 took second place and was driven by an all-local driver line-up of Rueben Wong, Aaron Lim and Fahrizal Hasan.
While both cars were Civic Type R, Car 26 was locally built at Honda's Melaka plant by HMRT members comprising 29 Honda Malaysia associates who dedicated their after-hours to making sure that the car was championship-worthy.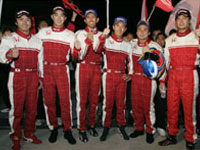 "The Challenge Within"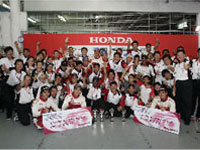 "The Challenge Within"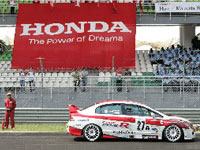 "The Challenge Within"
With teamwork and team spirit working seamlessly with quality cars and skilled drivers, both cars completed record number of laps since Honda Malaysia started participating in MME 5 years ago. Car 27 completed 283 laps while Car 26 completed 282 laps which were equivalent to an astounding 1,568.7km and 1,563.1km respectively!
In comparison, HMRT recorded 258 laps in MME 2006 through Car 27.
The best lap time for Car 27 was an impressive 2' 23" 826 while Car 26 was just about 2 seconds slower at 2' 26" 281.
Honda Malaysia Sdn Bhd's Managing Director and Chief Executive Officer Mr Atsushi Fujimoto who was also HMRT Team Principal said, "My heartiest congratulations to the whole HMRT and all the drivers. All of them have done Honda proud! It has been a challenging 12 hours but the whole team persevered, worked really hard and rose to the challenges. I am indeed very proud of them."
"We are very happy to be able to defend our Class A title for the 5th consecutive year through the win by Car 27. Making this win every sweeter is the 1-2 finishing in Class A for the whole team when Car 26 crossed the checkered flag just seconds behind Car 27. Car 26 particularly proved the skills, capabilities and talents of our local associates and HMRT and we are all very pleased with this achievement," Mr Fujimoto added.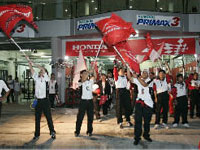 "The Challenge Within"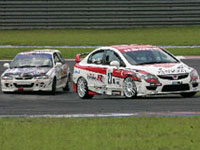 "The Challenge Within"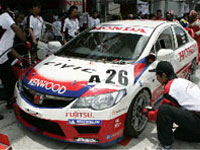 "The Challenge Within"
In the Overall Championship standing, this is also a record for HMRT as Car 27 and Car 26 were in second and third positions, in addition to the vastly improved number of laps completed and lap time.
This is a record that HMRT intends to keep and to continue to challenge themselves for the Overall Championship Title.
"This excellent result is a testament of HMRT's spirit of overcoming "The Challenges Within". It is the cohesive teamwork and team spirit of all the HMRT members that made this possible," said Mr Fujimoto.
However at Honda, it is never just about the victory. It is always about how far they rose to the challenge.
"Racing and motorsports are deeply rooted in Honda. It is our Reason to Exist! It is also Honda's DNA and Challenging Spirit in racing which continue to challenge us to compete at the highest level of motorsports, and this includes MME. Today, HMRT demonstrated Honda's "Challenging Spirit to the hilt," stated Mr Fujimoto.
The drivers of Car 27 who were literally chased to the finishing line by Car 26 were Eddie Lew who partnered Hiroki Katoh and Shinya Hosokawa.
"I am very happy to win the Class title for the 5th year in a row with Hiroki Katoh as my partner. This year's race has been challenging but I believe the most important factor in helping us win the race is the whole HMRT's Racing Spirit, which was very strong this year. Besides that, the racecar was in excellent condition throughout the race," said Eddie Lew.
"I would also like to congratulate Car 26. They were very competitive and I am very proud of them as this Car was built locally at Honda's Melaka plant and their performance proved the outstanding quality of the car," said Lew.
Lew also expressed appreciation to the MUGEN engineers, Yokohama and Honda Malaysia for their continuous support. He said, "Special thank you goes out to HMRT - the team that made this win possible! I am happy to be given the opportunity to race the car and win again this year."
"I hope I can race for HMRT again next year," Lew said.
For Hiroki Katoh who is no stranger to the Sepang circuit, the win this year is a personal victory as well. Katoh said, "I had two challenges for MME this year. This is the first time I raced with the Civic Type R. And the second challenge is of course to keep winning the Class A title."
"I am very happy that we did it! The teamwork and the diligence of the HMRT members was what made this possible. This is their victory!" said an exuberant Katoh after the race.
Katoh also congratulated Car 26 and was impressed with their performance.
"They challenged us all the way from the start for the first placing," said Katoh.
Their win was made even more meaningful with the presence of Honda fans who cheered the teams on at every lap, creating a splash of red as they waved Honda flags.
Team spirit was evident amongst these supporters who were certainly the most colourful and energetic if not the loudest.
At the same time, Honda Malaysia made special arrangements for 60 customers to join in the excitement of the race with paddock passes.
The buzz was still strong as every one made their way home at midnight after witnessing the prize giving ceremony.
Honda will certainly be upping the ante for next year's race as the whole team continues to challenge the record they have achieved this year.