Petaling Jaya, 3 September 2007 - Honda Malaysia Sdn. Bhd. announced today the appointment of Encik Mohamad Shukor bin Ibrahim as the company's new President and Chief Operating Officer with immediate effect.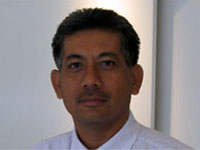 New President and Chief Operating Officer for Honda Malaysia.
Forty-two year old Encik Mohamed Shukor who holds a Bachelor of Science in Chemical Engineering from University of Missouri-Rolla, USA, succeeds Encik Kamarudin Abdul Kadir who reverts to DRB-HICOM Berhad.
Encik Mohamed Shukor's colourful career spans 20 years, of which, 6 years were spent at oil and gas companies namely, Petronas Dagangan Sdn Bhd and BP Malaysia Sdn Bhd. He then spent the next 14 years honing his knowledge and skills in a related field - the automotive industry, at Perodua Sales Sdn Bhd. At Perodua, Encik Mohamed Shukor worked his way up to Senior General Manager in the Sales Division before joining DRB-HICOM.
During his later years at Perodua, Encik Mohamed Shukor led the sales and marketing efforts of the national car producer and his team was credited with many of the company's branding successes. His boundless energy and strategic planning capabilities will be advantageous to Honda Malaysia.
"Honda was commonly cited as the automotive manufacturer to emulate. And Honda Malaysia has set exemplary product quality and customer satisfaction benchmark for automotive players in this country.
If you are working in the automotive industry, Honda is a company that many dream to work in. I am no different and I am very excited with this new appointment as it gives me an opportunity to contribute alongside Honda Malaysia associates towards further improving the Honda brand equity," said Encik Mohamed Shukor.
Encik Mohamed Shukor who likes challenges, said, Honda is a vibrant brand and is very focused on quality. And he is raring to rise to the challenge of helping to bring Honda Malaysia to the next level of achievement in its Initial Quality Survey (IQS), Sales Satisfaction Index and Customer Satisfaction Index.