Petaling Jaya, 10 September 2007 – Honda Malaysia invites Malaysians to 'Discover Civic' through a series of roadshows being held nationwide. The highlight of the roadshows are the display of the full Civic line-up in Malaysia – the 2006 Car of the Year Winner 8th Generation Civic 2.0L, the recently launched Civic Type R, the innovative Civic Hybrid and the Honda Malaysia Racing Team winning car of Merdeka Millennium Endurance (MME) Race 2007, the Civic Type R Car 27.
The roadshows will share with Malaysians the technology behind what makes the Honda Civic an icon of revolution in engineering technology! Through the roadshows and educational information, Honda Malaysia looks forward to share with consumers more about the uniqueness of each Civic and provide an overall understanding of the Honda Civic.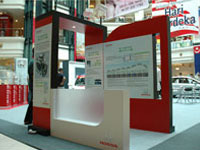 Civic Line-up Through Roadshows.
Civic Line-up Through Roadshows.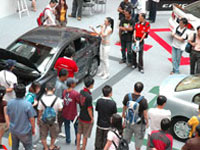 Civic Line-up Through Roadshows.
The roadshows has been scheduled to take place in Selangor, Johor Bahru and Penang.
Commenting about the roadshows, Honda Malaysia Managing Director and Chief Executive Officer Mr. Atsushi Fujimoto said, "Honda Malaysia is pleased to introduce the 8th Generation Civic line-up that is now available to Malaysians, which is the same line-up as in Japan. Even in Malaysia, this Civic continues to evoke desirability with its sleek, stylish and futuristic looks, smooth drivability, comfort and fuel efficiency. The line-up of Civics are also portrayals of Honda's deep-rooted passion in advanced technology, performance, motorsports and environmental conservation."
"Above it all, Honda continues to seek to provide products of the best quality that eases people's lives. Through these roadshows, we hope to use it as a channel to obtain customers feedback and continuously improve our products and services," added Mr. Fujimoto.
The highlight of the roadshow for many customers is the winning MME 2007 Car 27. Having successfully raced home to victory again for the 5th consecutive year in the 12-hour endurance race, Car 27, a Civic Type R from Japan, is indeed a sight to behold.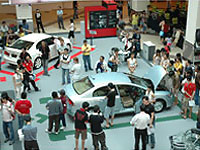 Civic Line-up Through Roadshows.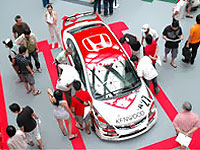 Civic Line-up Through Roadshows.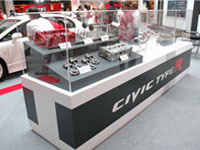 Civic Line-up Through Roadshows.
Another Honda Malaysia Racing Team (HMRT) race car, Car 26, took second place, just a few seconds behind Car 27. Car 26 is also a Civic Type R, which was locally built in Honda's Malacca plant by HMRT members. The spirit to "Challenge Within" empowered HMRT members to build a Civic Type R locally and challenged Car 27 for the Class A title.
Visit the "Discover Civic" roadshows in the remaining two weekends to view the line-up of Civics, including the MME winning race car, and discover more about the revolutionary Honda Civic!
Details for the "Discover Civic" Roadshows 2007:
7th - 9th September, 2007
Ground Floor, C Court, City Square, Johor Bahru
12th - 16th September, 2007
Ground Floor, New Wing, High Street, 1 Utama, Selangor
28th - 30th September, 2007
Ground Floor, South Zone, Queensbay Mall, Penang