Petaling Jaya, 9 October - Honda Malaysia announced today that the All-New Stream -- the second generation of the stylish 7-seater MPV (Multi-Purpose Vehicle), will be available for sale at all Honda authorized dealers in November this year.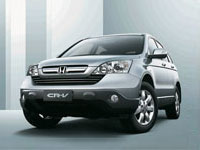 New Honda CR-V Well Received by Malaysian Motorists.
According to Honda Malaysia Managing Director and Chief Executive Officer Mr.Atsushi Fujimoto, Malaysian customers are anticipating and have been enquiring about the arrival of the new generation Stream."We are currently in the midst of preparing for its launch, and it will soon be made available to our customers in November through our authorized dealers nationwide," he said.
"Honda cars have a strong following here in Malaysia and we are confident that the All-New Stream will be well received. Only at Honda authorized dealers, all Honda vehicles including the new generation Stream come with 3 years warranty and free maintenance for the first six months. There will also be promotional offers for Stream parts and services, available at all authorized dealers," he added.
"The current Stream 2.0 iVS is priced at RM153,800. In the tradition of Honda's dedication to provide products and services of the highest quality at reasonable prices, the All-New Stream is packaged to delight our customers with its latest product features and specifications coupled with extensive after sales warranty and services," said Fujimoto.
49 of Honda's 52 authorized dealers nationwide are 3S Centers, which provide sales, service and spare parts under one roof, allowing customers to experience Honda's new products while perusing the after-sales facilities available. Prioritizing customer satisfaction and providing excellent after-sales service is what 3S is all about.
The Stream is a practical MPV combining dynamic styling features, advanced drivability and a real sporty image. It was first launched in Japan in October 2000 as a minivan and was developed to achieve a new 7-seater value concept based on three themes: a design anticipating the changing needs and style of the 21st century; sporty performance for the individual; and an innovative approach to interior space, comfort and refinement.
Following its introduction, the Stream recorded strong sales globally, with a total of 285,744 units sold particularly in the Japanese market where the average monthly sales exceeded original target of 6,000 to reach 10,000 units per month. It was one of the main contributing automobile models to Honda's worldwide 2001 fiscal year financial results.
Over the years, the Stream has also accumulated a string of award accolades in the Southeast Asia region, ranging from the Best MPV, 2002 (Straits Times Life Motoring, Singapore); Car of the Year, 2003 (New Straits Times MasterCard, Malaysia - Mid MPV Category); to Best MPV 2003 and Indonesia Car of the Year, Best Mini MPV, Best Compact MPV 2004 (Mobil Motor Magazine, Indonesia).

New Honda CR-V Well Received by Malaysian Motorists.
The spanking new generation Stream made its debut in Japan last July and 70,000 units already have been sold as of September 2007. It boasts a series of improvement from the previous generation stemming from Honda's renowned innovations and craftsmanship. After Japan, it was progressively launched in Singapore, Hong Kong and Macau, and has so far been well received. Honda Malaysia is expecting similar response and take-up from local customers.
For more information, please call Honda Toll Free number at 1-800-88-2020.