Melaka, 6 November, 2007 - Honda Malaysia Sdn. Bhd. yesterday celebrated the production of its 100,000th car within just five years of operations at the Pegoh Plant in Alor Gajah. This important milestone in the history of Honda Malaysia was celebrated in a simple yet joyous ceremony as the 100,000th car, a 8th Gen Civic rolled out.
The plant which was officially launched on January 30, 2003, now manufactures Honda cars for the Malaysian market and Constant Velocity Joint (CVJ) for export. The Honda car models produced at this plant are CR-V, Accord, Civic and City. The production capacity of these Complete Knock Down (CKD) models has since grown from strength to strength from an initial 20,000 units per annum in 2003 to 25,000 unit per annum in 2007.
At the 100,000th Unit Production Achievement Ceremony, Mr. Masaharu Hinaga, who is Asian Honda Executive General Manager noted, "I am very happy and honoured to be here today to celebrate this achievement with Honda Malaysia and to witness the production of the 100,000th Honda car in Malaysia. It is indeed an achievement that Honda Malaysia managed to reach this major milestone in just five years! This is a testament of the confidence Malaysians have in the Honda brand and its quality. We should persist in our every effort to exceed customers' expectation for our continuous growth in Malaysia."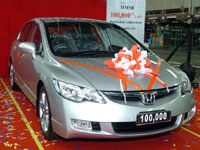 Honda Malaysia Achieves Milestone of 100,000
th
Car Produced at Pegoh Plant within Five Years.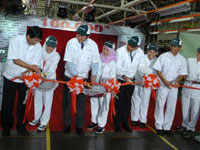 Honda Malaysia Achieves Milestone of 100,000
th
Car Produced at Pegoh Plant within Five Years.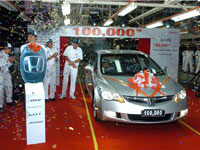 Honda Malaysia Achieves Milestone of 100,000
th
Car Produced at Pegoh Plant within Five Years.
Honda Malaysia Sdn. Bhd. Vice President Mr. Kenji Tanaka said, "We are very proud of our achievement today. But more than that, we are grateful to our many customers in Malaysia who has made this happen and our hardworking Honda associates who have worked tirelessly in the past five years to uphold the quality that is synonymous with the Honda brand."
Mr. Tanaka added that many processes, which emphasize the importance of quality control are put in place at the Honda plant to ensure that each Honda model delivered to the customer is of the highest quality. The Initial Quality Study (IQS) is a benchmark to ensure product at highest quality. Through the commitment of technology transfer from Honda Motor Japan and emphasis on quality by Honda associates, Honda has successfully obtained No: 1 for three consecutive years (2004 - 2006) in the J.D. Power Asia Pacific Malaysia Initial Quality Study (IQS).
This commitment to quality has also helped Honda Malaysia achieve numerous Car of The Year awards over the years, with the latest award being the 3rd Generation Honda CR-V named the "Autocar Asean Car of The Year Awards 2005 / 2006."
Mr. Tanaka added, "With this achievement and Honda's trademark "Challenging Spirit", we are spurred on to continue listening and responding to our customers in order to bring the best of Honda products and services to them. It is indeed a goal at Honda Malaysia to be able to achieve no.1 in customer satisfaction."
This 100,000th car production achievement came just six months after Honda Malaysia marked the shipping of its one millionth set of CVJ for the export market in May 2007.
Milestones - Honda Malaysia's Pegoh Plant
| | |
| --- | --- |
| Years | Milestones |
| 25 Aug 2001 | Ground Breaking Ceremony by Deputy Prime Minister, YAB DATO' Seri Abdullah Bin Haji Ahmad Badawi |
| 26 Dec 2002 | First Production Car Model CR-V |
| 17 Jan 2003 | Official Roll-Out Ceremony Honda Malaysia Sdn. Bhd Pegoh, Melaka |
| 30 Jan 2003 | Honda Malaysia Plant was officially opened by our Honorary Prime Minister, Tun Dr. Mahathir Mohamad |
| Feb 2003 | New City Mass Production |
| Sept 2003 | Honda Accord Mass Production |
| Feb 2004 | Honda Civic Mass Production |
| Dec 2002 | Change Model from CR-V to All New CR-V |
| Feb 2004 | Change Model from Civic 7th Generation to 8th Generation |
| 24 Aug 2004 | CVJ Plant - ISO 9001: 2000 Certified |
| 20 Feb 2006 | Car Plant - ISO 9001: 2000 Certified |
| 2004 to 2006 | Achieved IQS No. 1 for 3 consecutive years |
| 3 May 2006 | ISO 14001 Certified |
| 11 May 2007 | 1 Million Set Shipment in CVJ Plant |
| 6 Nov 2007 | 100,000 CKD Production |