Petaling Jaya, 19 March 2009 - Honda Malaysia Sdn. Bhd. today unveiled the enhanced 8th Generation Civic at a mobile roadshow that showcases Honda's commitment towards creating vehicles that are distinctive, advance and revolutionary. The three facelift Civic models displayed at the mobile roadshow are the Civic 1.8L, Civic 2.0L and Civic Hybrid. Already a much desired car of many due, these three models continue to capture the essence of a stylish and sporty sedan of outstanding performance that gives unparalleled fuel efficiency, interior spaciousness and comfort.
The multiple award winning 8th Generation Civic, known for its performance as well as advanced and dynamic appearance was given an edgier look now with a facelift. The new Civic promises to continue giving a fun driving experience while captivating fans with its enhanced features.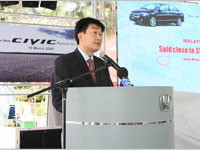 Mr. Atsushi Fujimoto, MD & CEO of Honda Malaysia introducing the enhanced features in the New Honda Civic.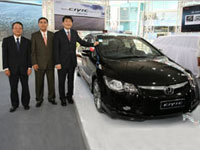 The management team of Honda Malaysia - Mr Ikuo Kanazawa, VP, En. Azman Bin Idris, President & COO and Mr Atsushi Fujimoto, MD & CEO with the New Civic.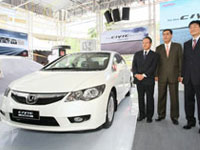 Honda Malaysia's management team posing with the new Civic Hybrid.
The New Civic with enhanced features.
The New Civic fitted with Modulo kit.
Commenting on the launch of the new Civic, Mr. Atsushi Fujimoto, Chief Executive Officer and Managing Director of Honda Malaysia Sdn. Bhd. said, "The Civic is an outstanding model that already has a huge fan base here in Malaysia and we are proud to continue captivating Civic fans with an enhanced look. Honda's principle has always been to provide products of the highest quality to continuously fulfill the ever changing demand of the market. This new Civic is yet another effort by Honda to bring the joy of ownership to our customers."
Sporting a redesigned grille and bumper now, the new Civic is also equipped with modern-looking oval fog lamp and smoked headlamps, giving the Civic a sleeker and aggressive look. The rear combination lamps have also been redesigned to give a bolder look by incorporating diamond cluster tail and stop lights.
Made sportier, the Civic 2.0L version comes with redesigned 17" alloy wheels. Meanwhile, the 1.8L comes with new fabric seats design.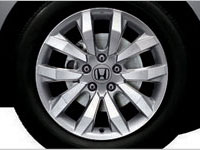 The redesigned 17" alloy rims in the New Civic 2.0L.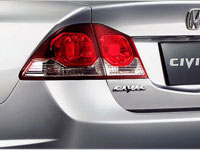 The New Civic offers diamond cluster tail and stop lights.
Since its introduction in 1972, more than 19 million units of Civic has been sold in over 160 countries. In Malaysia, close to 35,000 units of Civics were sold by Honda Malaysia since 2002 with the 8th Generation Civic having sold more than 26,000 units, maintaining No. 1 position in the non-national mid-size sedan segment for 3 consecutive years, capturing 40% of market share in 2008.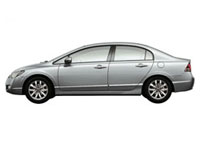 Alabaster Silver Metallic.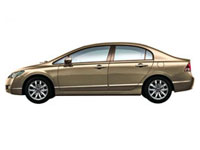 Bold Beige Metallic.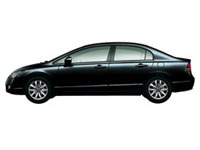 Crystal Black Pearl.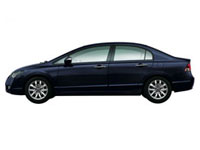 Sparkle Gray Pearl.
Expressing confidence in the facelifted Civic, Mr. Fujimoto said, "We believe that the Civic will continue to be loved by drivers who are looking for performance and sporty design in a car."
Over the years, the Civic often appeals to people who constantly seek for progression and passionate about life. These people are in search of a vehicle that enhances their image and reflects their personality. The new Civic captures the essence of stylishness and confidence, reflecting the dynamic personality of Civic fans.
The colour line-up available for new Civic includes Crystal Black Pearl, Alabaster Silver Metallic, Sparkle Gray Pearl and Bold Beige Metallic.
The new Civic formed part of the display line up at the Honda Mobile Roadshow. Interested public can view the vehicle at the mobile roadshow currently ongoing at The Curve, Mutiara Damansara from 19 to 22 March. The mobile roadshow will be traveling around Malaysia showcasing the whole range of Honda models namely the new Civic 1.8L and 2.0L, Civic Hybrid, All-New City, Accord, Jazz and Stream RSZ.
Check out the new Civic at Honda mobile roadshow or any authorised Honda Dealers nationwide! For more information, please call Honda Toll Free number at 1-800-88-2020 or visit www.passionforlife.com.my.