Petaling Jaya, 30 November 2007 - Driving is to get easier and even more pleasurable for Honda Accord customers, who can now receive a portable lightweight1 navigation system valued at RM2,300, when they purchase an Accord at any of Honda's authorized dealers nationwide starting 1 December.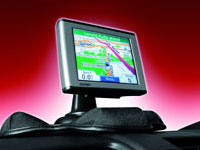 Easier Routing in Honda Accord Now with Navigation System
The easy-to-use Gathers Honda Infotainment Navigation System activates on a touch screen that features a choice of two or three dimensional (2D or 3D) map. The comprehensive Malaysia map can be used to find one's location and direction, and assist the driver to plan the route from point to point when traveling. In addition, it provides useful information on the locations of petrol kiosks, restaurants and hotels, particularly along highways for the driver's convenience.
Over and above its navigational functions, the system is equipped with a MP3 player, calculator, clock showing local and international time, and blue tooth function that allows drivers to use their mobile cellular phones hands-free while driving. The device operates on battery2 and comes with a leather case for protection from scratches. It also comes with one time free map update and is under a one-year service warranty upon purchase with the Honda Accord.
Honda Malaysia's commitment to deliver new and value added products to customers underlined the introduction of the current Honda Accord model to the Malaysia market in July 2006. The facelifted 7th generation Honda Accord boasts of an elegant face lift as well as a host of new features and enhancement the most noticeable being the newly designed front grill and rear bumper, high mount LED 3rd brake lights and LED tail lights.
Through feedback from customers, Honda Malaysia learnt that customers are constantly looking for new and additional features with their Honda car purchases. As such, the Honda original navigation system had been specially brought in to complement the Honda Accord sedan. This is in line with Honda Malaysia's priority to fulfill customers' expectations and to add value to every Honda Accord purchase.
For more information, please call Honda Toll Free number at 1-800-88-2020, or log on to www.honda.com.my, or visit any authorized Honda dealers near by!
1 Weight of navigation system device is 144.6 grammes.
2 Battery life span is 4 to 8 hours and is rechargeable.