Tips on caring for the environment for students.
Malacca. 10 March 2009 - Switch off the tap when not in use. Do not litter. Use both sides of the paper. These were some of the answers given by students at the quiz session during the environmental talk organised by Honda Malaysia in Malacca.
In its aim to impart environmental responsibility to students and to help Save the Sumatran Rhino, Honda Malaysia travelled up North to Penang, down South to Johor and all over the Klang Valley. Today, 600 students from four primary schools in Malacca benefitted from the environmental talk aimed at educating and developing good habits in their daily lives. These four schools are SK Jalan Datuk Palembang, SK Limbongan, SK (P) Methodist 1 (M) and SK Seri Bandar.
Students eager to answer the questions in the talk.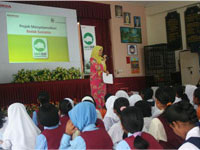 An introduction by school teacher. Pn. Rohayu before the start of Rhino School Talk.
Honda Malaysia Managing Director and Chief Executive Officer Mr Atsushi Fujimoto said "Developing a love for Mother Nature and good habits in environmental conservation should start from young. Through the talk on the environment, we aim to create awareness and consciousness in the students about the need to preserve the environment. We hope the children will pick up some tips from the talk and do their part to care for the environment by practicing simple good habits such as recycling trash and using non-woven bags for shopping. Every small gesture goes a long way in helping to preserve a green home not only for us, but for our future generations."
Group photo with HMSB representative. Ms. Aliana. Principal of SK Jalan Datuk Palembang. Pn. Hjh Rohana Bt. Arifin and teachers.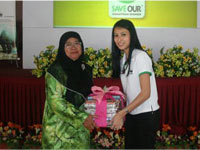 A set of environmental books from Honda Malaysia presented to Pn.Hjh Rohana Bt. Arifin. Principal of SK Jalan Datuk Palembang.
As at today, Honda Malaysia has imparted environmental responsibility to 32 schools since 2007 and reached nearly 6600 Standard 4 and Standard 5 students in theKlang Valley, Penang, Johor Bahru and Malacca.
At each school talk, goodie bags consisting of leaflets, drawing pads, bookmarks, coloring paper and Rhino badges were distributed to the students. The schools were also presented with a set of environmental books from Honda Malaysia to motivate and remind the students to conserve our environment.
These school talks are an extension of Honda Malaysia's 5-year commitment in the Save Our Sumatran Rhino project in partnership with WWF Malaysia. The project seeks to study and understand the Sumatran Rhino, one of the most endangered animal species in Malaysia. At the same time, it also aims to create awareness on the environment and the urgency for us to protect the home of these animals to ensure their survival.
Honda Malaysia will continue its effort to increase public awareness and to educate future generations on the importance of conserving the environment, through the Save our Sumatran Rhino campaign, as part of its commitment to become a company that society wants to exist.