Setia Alam, 4 September 2013 – The highly anticipated 9th Generation All-New Accord has finally arrived in Malaysia! Totally redesigned and equipped with new advanced Honda technologies, the Advanced Smart Premium Sedan will set a new benchmark as a segment-leading product.
The Accord boasts an illustrious 37-year history with eight full model changes. Currently sold in 160 countries, the Accord remains the industry benchmark, with cumulative sales exceeding 19 million units worldwide. Since its debut in 1976, the Accord has been Honda's flagship model and it has evolved along with Honda's technology to exceed expectations of today's customers. The All-New Accord that is built with refined innovative styling and advanced premium features appeals to luxurious trend seekers, both males and females who aim for a luxury sedan vehicle.
Honda Malaysia Sdn Bhd Managing Director and Chief Executive Officer, Mr. Yoichiro Ueno said, "In Malaysia, the Accord has its share of loyal fans across the generations. As of 31st August 2013, there have been more than 51,500 units of Honda Accords sold in Malaysia."
"The All-New Accord that will be revealed to you today will set a new benchmark as a segment-leading product. The 9th Generation Accord has been built and designed with our customer in mind, aiming to create a balance of luxury and performance – from innovative safety to advanced technologies to ultimate comfort and luxury," added Mr. Ueno.
With the 9th Generation Accord, Honda engineers went back to the drawing board and started at the core with the objective to raise the bar even higher, to make this the best Accord ever in its class. The heart of this Accord is the "Honda DNA". The Accord values and DNA is retained - styling that withstand the test of time, best in class comfort and quietness, enhanced fuel economy, fun-to-drive element, good visibility with advanced safety features and value for money.
Having the added advanced technology, sophistication, luxury and quality; the All-New Accord is conceptualized to be an "Exhilarating Efficient Package in an Advanced Smart Premium Sedan". The All-New Accord is available in three variants, namely 2.0VTi, 2.0VTi-L and 2.4VTi-L. The highest variant is now powered by Honda's revolutionary "Earth Dreams Technology" engine. The "Earth Dreams Technology" is a next generation set of technological innovations to pursue a high level of driving performance and fuel efficiency.
All three variants are fitted with ECON Mode which when activated combines and performs a series of ECO Assist functions. This intelligent combination is able to improve the vehicle's fuel usage efficiently with the push of a button.
The stylishly sculptured All-New Accord is smaller and lighter than its predecessor. With the fundamental concept of a "Dynamic Intelligent Sedan", the All-New Accord features an improved exterior styling via a strong aerodynamic V-shaped body.
The All-New Accord's interior sets a new benchmark of spaciousness, sophistication and refinement in its segment. Reflecting Honda's engineering and design philosophy of 'Man Maximum, Machine Minimum', Honda managed to extend the interior space to make it roomier and more comfortable for its passengers. Rear legroom has been increased by 35.5 mm, while the boot is 23 liters larger. Overall, the premium interior prioritizes high quality and luxury with a smooth clean layout for increased comfort. Efficient noise insulation hardware, Active Noise Control (ANC) and Active Sound Control works together to provide improved quietness in the cabin that is above its class. The Noise, Vibration, Harshness (NVH) is significantly enhanced with a strong insulation padding package, allowing both driver and passengers to indulge and enjoy the exhilarating ride in the spacious and comfortable cabin of the All-New Accord.
The All-New Accord has been built on Honda customers' desire for advanced and smart safety features as well as driver-assistive visibility technologies. One example is the LaneWatch Camera made available in the 2.4VTi-L variant, which is also Honda Malaysia's first model to receive this safety feature. The blind spot visual will be displayed on the 8-inch full LED backlit VGA intelligent Multi Information Display (i-MID). The All-New Accord (2.0VTi-L and 2.4VTi-L) also features the Multi-Angle Rearview Camera that is able to capture a display area of 180 degrees for better visibility when reversing. Emergency Stop Signal and One Touch Lane Change feature increases the innovative safety aspects of this dynamic vehicle. Available in the 2.4VTi-L variant, the Active Cornering Lights (ACL) intelligently provides additional lighting automatically when the driver activates the indicators or turns the steering wheel more than 90 degrees. This is another first for Honda together with the LED headlamps feature, which is made available in the 2.4VTi-L variant.
Taking safety measures to a higher level, the All-New Accord comes with Motion Adaptive EPS (MA-EPS) that combines with the VSA system to assist driver to regain stability in under steer and over steer conditions.
Honda Malaysia offers a 5-year warranty with unlimited mileage and a new service interval of 10,000 km to provide the best ownership experience for the All-New Accord. Honda Malaysia believes that the new competitive after sales package will further entice Honda customers to make the Accord the vehicle of their choice.
The All-New Accord is available in 5 colours – a new attractive colour in Modern Steel Metallic, Champagne Frost Pearl, Crystal Black Pearl, Taffeta White and Alabaster Silver Metallic. Honda Malaysia targets to sell 2,800 units of the 9th Generation Accord in 2013. The All-New Accord is targeted to capture 30% of the market share in the non-national D-segment.
Mr. Ueno continued, "The All-New Accord sets a new standard for luxury and innovative technology features. We are confident that this model will be a segment-leading product, enjoyed by all Malaysians."
For more information on the All-New Accord or to book a test drive, please visit any of the 64 Honda dealers nationwide or call Honda Toll Free number at 1-800-88-2020, or log on to www.honda.com.my.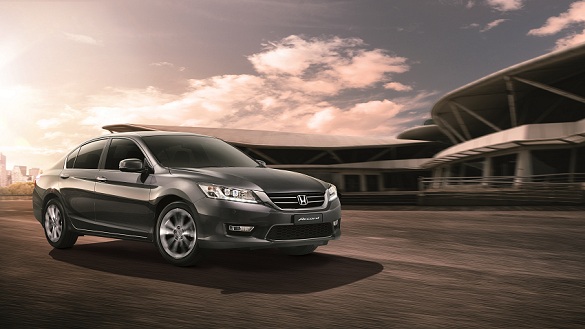 All-New Accord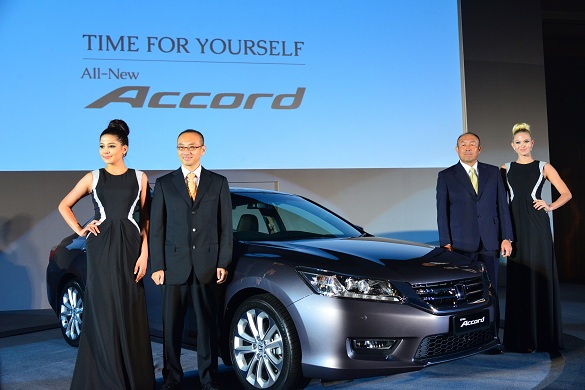 Mr. Yoichiro Ueno, MD and CEO, Mr Masao Nakano, A-LPL of All-New Accord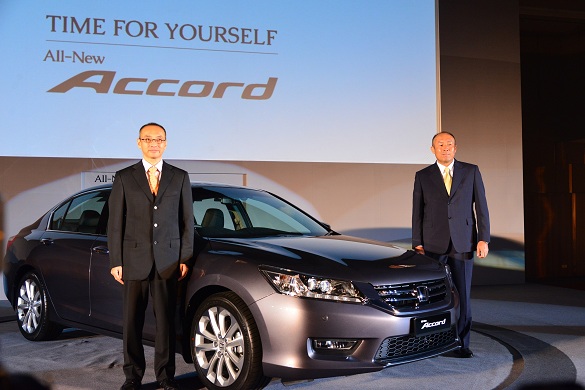 Mr. Yoichiro Ueno, MD and CEO, Mr Masao Nakano, A-LPL of All-New Accord