Petaling Jaya, 6 April 2009 - In order to provide more people with the life-transforming opportunity that Honda Dreams Fund (HDF) offers, Honda Malaysia today announced the extension of the deadline for submission of applications for Honda Dreams Fund (HDF) to April 15, 2009. The original deadline for HDF is 31st March 2009.
"Throughout last month (March 2009), Honda associates together with representatives from the United Nations Development Programme (UNDP) had travelled to schools in Klang Valley and the interiors of Kedah, Pahang and Sarawak with the goal of reaching out to truly deserving youths around Malaysia. We received overwhelming response at all the roadshows and from the feedback we received, Honda Malaysia decided to extend the deadline for Honda Dreams Fund by another two weeks to enable more young people to apply," said newly appointed Managing Director and Chief Executive Officer of Honda Malaysia, Mr. Toru Takahashi.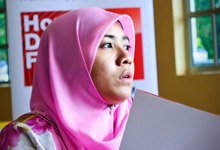 HDF is about giving underprivileged youths a chance to fulfill their dreams and achieve a better future through education.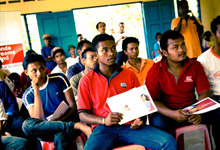 Honda Associates and UNDP Representatives went around Malaysia to give talks about HDF to underprivileged youths.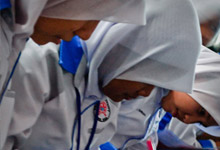 To apply, candidates are required to write an essay about their dreams.

Currently in its third year, the Honda Dreams Fund was created to give underprivileged young Malaysians who dare to dream, a chance to fulfil their dreams and achieve a better future through education.
This year, the HDF team travelled to rural villages in Kedah, Pahang and Sarawak as well as to schools located in the Klang Valley in order to extend the reach of the scholarship and to reach out to more people.

In the Klang Valley, the Honda-UNDP team visited three schools; SMK Kepong; SMK Darul Ehsan, Selayang and SMK Dato Hamzah, Klang. Reaching out to a combined total of approximately 700 students, these visits to schools in the Klang Valley were organised to reach the underprivileged urbanites, a community often neglected.

Coming back to share his experience at his former school, SMK Darul Ehsan, Arvin Raj, a HDF scholarship holder from year 2008 said, "My aunt informed me about this scholarship and told me to seize the opportunity that HDF offers. I then went to my friend's house and used his computer to write my essay as I do not have a computer at home. I wrote from my heart, talking about my dreams which I harboured deep in my heart. As it was almost nearing the closing date, I quickly printed the essay and mailed it by Pos Laju. Today, I am a holder of the HDF scholarship and I truly believe that this scholarship will certainly change my life."

From the underprivileged urbanites, the Honda-UNDP team went on to conduct talks in Alor Setar, Kedah where a total of 250 youths got to know more about the non-binding, full scholarship offered by Honda Malaysia.

After Kedah, the team travelled south to Pahang where talks were held in Jerantut and Temerloh. More than 100 youths, parents and schoolteachers attended the talks. Youths from the indigenous groups were also present.

Two weeks later, for the last leg of the HDF roadshow, the team went to Miri, Sarawak. Travelling on a 2-way "kampung" road through potholes and a bumpy ride in a hired van, the first talk was conducted in Batu Niah, approximately an hour drive away from Miri. Held in 2 schools, the talk attracted 450 youths from Batu Niah. Majority of the population in Batu Niah live below the poverty line of about RM500 monthly household income. Dreams of furthering their studies after SPM or STPM remain as dreams. On the last day in Sarawak, the team managed to squeeze in one final talk at a school in Miri for 150 youths.

Last year, Honda Malaysia travelled into the deep interiors of Sabah, Sarawak and Pahang to introduce HDF to youths and representatives from the indigenous groups such as the Kelabit, Orang Ulu, Tambunan, Bajau, Kayan, Bidayuh and Penans, to name a few. From these talks, a total of 23 candidates from Sabah and 9 from Sarawak were shortlisted for the scholarship.

Today, 40 young Malaysians are on their way to realizing their dreams with a few graduating this year. This year, 20 more will be selected from a shortlisted list of 60candidates. The selection process will be via an all expense-paid workshop which is aimed to be happening in June 2009. The 60 shortlisted candidates will be informed in May 2009 to attend the workshop. In the meantime, the task of short-listing these candidates fall on HDF's independent Advisory Panel which comprises members from Human Rights Commission (SUHAKAM), All Women's Action Society (AWAM), Malaysian Youth Council (MYC) as well as UNDP and Honda Malaysia.

The Honda Dreams Fund covers tertiary education fees and provides for allowances to meet living expenses for the duration of their courses. It is open to Malaysians aged between 17 - 24 years of age who have at least completed and passed the Sijil Pelajaran Malaysia (SPM) or Sijil Tinggi Pelajaran Malaysia (STPM) examination. Strong academic results are encouraged but not a deciding factor. The fund aims at provide the means for students to achieve their dreams, regardless of what they may be.
Candidates must not be receiving any bursaries or financial aid from other organizations, agencies or government. To apply, candidates are required to write an essay on their aspirations in realizing their dreams in not more than 500 words. Closing date for entries is 15 April 2009.
For more information on the Honda Dreams Fund, please visit the website at www.honda.com.my/hdf