Sepang, 25 May 2009 - Honda Malaysia today officially introduced an all-Malaysian, 26-member Honda Malaysia Racing Team (HMRT) and Civic Type R Race Car 27, to once again challenge themselves in the grueling 12-hour MME race this year! All 26 HMRT members are also Honda Malaysia associates and work on the race car beyond their normal work responsibilities.
With the motto "Rising To The Challenge" to motivate them, the HMRT members and 3 drivers are all set to bring forth their Challenging Spirit onto the Sepang race tracks this coming August. HMRT aims to capture the Class A Championship this year and of course to ultimately push themselves for the Overall Title.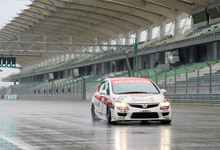 Civic Type R Car 27.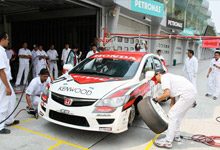 Pit stop simulation.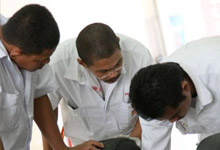 Tire man checking the tire pressure.
HMRT's objective is to create a platform which allows local talents to thrive and to build up the local team's expertise in motorsports. This year's HMRT consists of 3 returning drivers; Eddy Lew, Aaron Lim and Rueben Wong. Of the 26 HMRT members, 11 are new to the team whereas 14 HMRT members are retained from last year for the purpose of knowledge sharing and providing guidance.
HMRT Team Principal Mr. Toru Takahashi, who is the new Honda Malaysia Managing Director and Chief Executive Officer said, "This is the first year for me to witness the MME race in Sepang and I look forward to seeing the HMRT team in action. I am very proud of the fact that Honda Malaysia is committed to build up the skills of our local associates and continue to support them in working together towards a victorious MME 2009."
In motorsports, speed and time is of essence. During the Shakedown 1, HMRT members honed their skills battling time with pit stop simulations. Senior members of HMRT also took the time to share their knowledge and skills to the new members.
Mr. Takahashi added that 2009 is the 7th year Honda is participating in MME and it is an encouragement to see the progression and gradual independence of the HMRT team over the years. In the first year of participation, HMRT was fully dependant on the guidance and supervision of MUGEN from Japan. Gradually, as the team gained more exposure, confidence and skills, they also became more independent over the years. Last year, HMRT was 100% independent in the building of the race car which was a giant leap of achievement compared to the first year. This is also the ultimate objective of HMRT - to train and build up the skills of local talents to thrive in the motorsports and automotive arena. This year, 14 members from last year's team returned to HMRT to lead in the different divisions and to transfer their skills and knowledge to the other new HMRT members.
"I had an opportunity to go to Japan for training under HMRT in year 2007. This is my third year as an Engine Mechanic in HMRT. MME 2009 is set to become one of the most challenging year for HMRT as we have only one racecar and we need to be more focused to ensure zero mistakes during the race. I sincerely hope that HMRT can win this year," said Mr. Thayalakumaran, 32, HMRT Engine Mechanic, whose daily job is in the Service Department. He is also known as the most experienced member in HMRT.
Inspired by the Honda dream, the new HMRT Tire Man, Encik Mohd Soib Bin. Omor, 29 said "I tried applying to be a member of HMRT since 2007. Last year, I was part of the committee which I provided support and assistance at the grandstand. I am very proud and excited to be part of the HMRT team this year, as I know that I can gain extra knowledge and skills besides the skills that I get to learn from in Facilities Maintenance department. My next dream is to be a mechanic in HMRT next year."
Despite the challenges, Honda continues to participate in MME as Honda believes that it is through participation and pushing oneself to the limits in motorsports that superior engineers are developed - which then translates into the building of advanced cars of the highest quality. With this, the Honda Malaysia Racing Team (HMRT) will continue to embrace the Challenging Spirit towards excellence in MME 2009!