Petaling Jaya, June 26, 2009 - Honda Malaysia Sdn. Bhd. today announced that there are now 100 2nd Generation Civic Hybrids on Malaysian roads since June 2009. This is an important milestone for Honda Malaysia to know that together with these 100 Civic Hybrid owners, they are playing a role in reducing their carbon footprint towards preserving Mother Earth.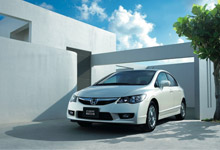 The 2
nd
Generation Civic Hybrid has achieved its significant 100
th
owner milestone in Malaysia.
Michelle Lu and husband Jack Ma with their Civic Hybrid - They purchased the car because of its environment-friendly technology and fuel efficiency.
Commenting on this significant milestone, Mr. Toru Takahashi, Managing Director and Chief Executive Officer of Honda Malaysia Sdn. Bhd. said, "Honda is the pioneer and the only car marque currently to offer hybrid vehicles to Malaysians and these 100 owners are also pioneers in their own way. By driving a Civic Hybrid everyday helps reduce our carbon footprint by 1 tonne a year and collectively, these 100 owners reduce 100 tonnes a year. With more environmental conscious consumers in Malaysia, we believe more consumers will opt for a hybrid and pave the way towards a greener country."
In August 2007, the 2nd Generation Civic Hybrid was first launched and in February 2009, the new price tag was introduced at RM129,980, after taking into consideration the tax incentives for hybrid vehicles as announced in the Budget 2009. By year-end, Honda Malaysia targets to sell a total of 200 units of Civic Hybrid.
The Civic Hybrid has also been receiving overwhelming demand globally with accumulative sales of more than 270,000 units. In Malaysia, Honda introduced the 1st Generation Civic Hybrid in 2004 and 18 units was sold. To date, 125 units of the 2nd Generation Civic Hybrid are on the road while 13 units has been booked.
Giving users economical fuel consumption and decreased CO2 emissions, the Civic Hybrid gives users the extra edge in both worlds, as consumers today are more sensitive to the volatility towards fuel prices and feeling the urgency to care for the environment. Without sacrificing on either appearance or performance, the Civic Hybrid's Integrated Motor Assist (IMA) system that works cohesively with a 1.3 litre 3-stage i-VTEC engine can give up to 31 km/litre.
"Globally, there has been overwhelming demand for the Civic Hybrid. In fact, companies that have a policy in place to reduce CO2 emissions are seeing the excellent benefits that the Civic Hybrid offers. In the United Kingdom, British Airways and Ikea are examples of companies that have shifted their fleet of vehicles to the Civic Hybrid in their commitment towards meeting the highest environmental targets for vehicle emissions and delivering greater fuel efficiency," Mr. Takahashi added.
The 2nd Generation Civic Hybrid is popular with married urbanites aged 30 to 49. It is designed and built for the modern and forward thinking personalities while appealing to tech savvy individuals as it captures the essence of dynamic and stylishness.
Honda Malaysia will continue to educate and build awareness of the hybrid technology amongst Malaysians. The urgency to promote advanced technology that are fuel efficient is a worldwide need to decelerate climate change and also lessen dependence on fossil energy. As such, Honda is committed to continue developing technologies which are gentle on the environment yet fun to drive, at the same time building awareness towards environmental conservation.