Petaling Jaya, June 26, 2009 - Green is the new black! The colour of environment is certainly the hottest new accessory one can wear this season especially when you ask the 100 2nd Generation Civic Hybrid owners in Malaysia today. The environmentally-friendly Civic Hybrid that was officially launched back in August 2007 has reached a milestone ownership figure of 100 just recently.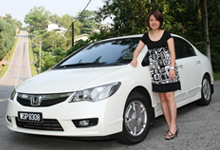 Michelle Lu, owner of the 2
nd
Generation Civic Hybrid.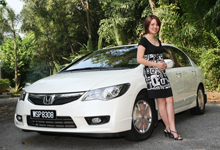 Michelle Lu compliments the performance of the 2
nd
Generation Civic Hybrid.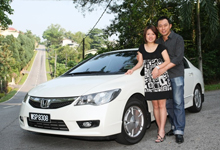 Michelle Lu and husband Jack Ma with their Civic Hybrid - They purchased the car because of its environment-friendly technology and fuel efficiency.
For each of these Civic Hybrid owners, they can certainly be proud of the fact that by simply driving the car, they are each reducing their carbon footprint by 1 tonne a year. Collectively, they take credit for the 100 tonnes lesser carbon footprint that they leave behind as compared to driving a normal (combustion) car.
One of the first 100 owners of the 2nd Generation Civic Hybrid, Michelle Lu and her husband Jack Ma said that it makes them feel good knowing that they are helping the environment by using a hybrid car. "The Civic Hybrid is good for the environment and it uses less fuel," they said.
Ironically the Civic Hybrid was not Lu's top choice when she was shopping for a car but she gave in to her husband's selection. She soon changed her mind after driving the Civic Hybrid for less than two months. Lu agrees that it has definitely exceeded her expectations and is good value for money.
"When we first got the Civic Hybrid, our friends asked us why, because like myself, they too have the perception that it is a low capacity car with only a 1.3 litre engine and has no power. My perception has definitely changed now. I am very impressed as there is pick-up and it gives good speed performance. In fact, it drives like a 1.8L vehicle and it is so much smoother and quieter," Lu said.
Ma, a Professional Engineer with Master Degree in Civil Engineering and has passed all papers in CFA (Chartered Financial Analyst) and ACCA (Association of Chartered Certified Accountants) said the Civic Hybrid makes perfect sense to him both from the technology advancement and monetary aspects.
The environmentally friendly hybrid engine is economical on fuel consumption, giving more mileage per litre and its regenerative technology harvests energy usually lost in braking.
Without sacrificing on either appearance or performance, the Civic Hybrid can give up to 31 km/litre mainly due to its Integrated Motor Assist (IMA) system that works cohesively with a 1.3 litre 3-stage i-VTEC engine. It reduces fuel burning and thus, reducing the amount of CO2 emitted into the environment.
Globally, the Civic Hybrid has been receiving overwhelming response as individuals and corporations began to proactively playing a part towards a cleaner and greener earth. Some companies are seeing the excellent benefits that the Civic Hybrid offers especially when they have a policy in place to reduce CO2 emissions and be an all around greener company. In the United Kingdom, British Airways and Ikea are examples of companies that have shifted their fleet of vehicles to the Civic Hybrid in their commitment towards meeting the highest environmental targets in lowering their vehicle emissions.
Commenting on the achievement of the 100 Hybrid ownerships, Mr. Toru Takahashi, Managing Director and Chief Executive Officer of Honda Malaysia said, "Honda is committed to continuously developing technologies which are gentle on the environment yet fun to drive. We are the pioneer and the only car marque currently to offer hybrid vehicles to Malaysians because we believe Malaysians are environmentally conscious and appreciate the advanced technology available in reducing CO2 emissions. We hope with the recent reduction in taxes for hybrid vehicles we will see more motorists opting for green vehicles as price is no longer prohibitive."
The 2nd Generation Civic Hybrid is popular with married urbanites aged 30 to 49. It is designed and built for the modern and forward thinking personalities while appealing to tech savvy individuals as it captures the essence of dynamic and stylishness.
In Malaysia, Honda has committed itself to continue its efforts to educate and build awareness of the hybrid technology in our country. The urgency to promote advanced technology that will reduce fuel consumption is a worldwide need to decelerate climate change and also lessen dependence on fossil energy.
The Civic Hybrid 1.3 litre 3-stage i-VTEC + IMA is sold for RM129, 980 in Malaysia.