Fun. Challenging. Muddy. These were the 3 words used to describe the adventurous Awana Genting Trailblazer Run 2009, where Honda Malaysia brought in its Comfortable Runabout Vehicle, better known as CR-V as the Official Car of the sporty event.
Mr. Toru Takahashi, Managing Director and Chief Executive Officer of Honda Malaysia says, "We are delighted that Honda is involved as the official car sponsor for an adventurous and sporty event such as the Awana Genting Trailblazer Run 2009. The 3rd Generation CR-V is a very fuel efficient SUV that accords comfortable driving experience and can stylishly function as a daily vehicle, a family car or a vehicle that complements an active outdoor lifestyle."
"The CR-V incorporates features that offer SUV practicality and car-like driving dynamics, making it a good fit for people who are looking for sedan-driving comfort in a vehicle that suit their active lifestyle. We hope that the event will be even more successful with the participation of the CR-Vs," Takahashi added.
"The Honda CR-V, played its role as the official car and contributed to the success of the Awana Genting Trailblazers Run 2009. CRV has proven to be an excellent vehicle for this event. The spaciousness of the vehicle helped us with the event logistics and in moving many people from one venue to another," said Milton Tan, Assistant Marketing Manager of Resort World Bhd.
The Trailblazer Run is a challenging 14km run through a million-year-old rainforest. The event gathered a total of 1,120 participants, forming 560 teams from all over Malaysia and Singapore. But it was not just a race. This annual pulse-pounding combination of exciting trail run and adventure race, also emphasised on the importance of preserving our environment and treasured rainforest through the "Zero Waste" programme. Participants were advised to bring their own water bottles to avoid throwing drinking cups as they challenged for the top prize. On the organiser's part, a post-event clean up was also organised with a recycling programme to help manage waste such as paper and boxes.
For Honda and the CR-V, it was certainly a fulfilling support for the Awana Genting Trailblazer Run. Not only was the CR-V tested to the fullest and proved its mettle; it was also an event that resonates with Honda's passion in caring for the environment.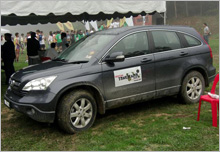 CR-V, the ideal vehicle to complement the tough and challenging race of Awana Genting Trailblazer Run 2009.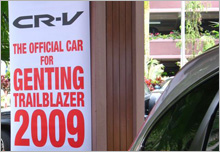 CR-V, The official car for Genting Trailblazer 2009.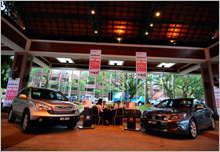 Honda CR-V and Accord showcase at Awana Genting Hotel for the Awana Genting Trailblazer Run 2009.