ALOR GAJAH, Melaka, 18 August 2007 - Tech Challenge 2007 returns this year with exciting new challenges for Honda dealers' service and spare parts personnel. This is Honda Malaysia's continuous effort in creating competition among these personnel as a motivation to progress in their service operation as well as improving their skills and knowledge required to achieve Customer Satisfaction No. 1.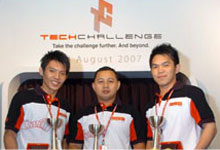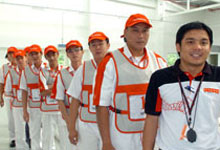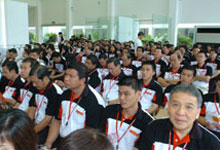 The challenge was held at the HMSB Training Centre at the Pegoh Plant in Melaka, which was established in 2005 with the aim of ensuring productive and skilled workforce among dealers. This is in line with HMSB's dedication to provide its customers with the highest quality products and most efficient service.
"One direct way of improving our service operation to render our customers a total satisfying experience is to improve the people operating our service," Managing Director and Chief Executive Officer of Honda Malaysia Sdn Bhd (HMSB), Mr. Atsushi Fujimoto said at the launch of the final stage. "Therefore, Tech Challenge carries a clear mission with the Customer Satisfaction in mind to achieve progress in every step of our service operation."
Mr. Fujimoto added that only when service personnel are proud and ready to provide quality service would Customer Satisfaction be achieved. However, it is not only the customers who will benefit from this endeavour.
"Tech Challenge is meant to nurture a motivating environment for our service personnel to be proud and ready by improving their skills and knowledge. That is the joy of creating new expertise," Mr. Fujimoto said.
This year's challenge saw a record number of participants ever, with over 205 participants from 49 dealers nationwide. This was due to the fact that this year's challenge involved Service Advisors, Foremen and Parts Controllers, as compared to last year's Technicians category only. This change is in line with HMSB's objective of motivating all its service personnel. The participants competed against their respective peers over three stages, which included a theory test and the practical challenge in the finals among others.
The three stages of the competition ran from June to August. The first two stages served as elimination rounds using mostly written tests, but it was the final stage that was toughest on the participants. It pit the best from each region - East Malaysia, Northern, Central, Southern and East Coast - against each other through practical tests in their respective fields of expertise, carrying on the Honda legacy of maintaining a competitive and challenging spirit at all times. The tests were indeed tough, but the participants showed that they were able to overcome any obstacle placed before them.
Over 150 guests were present at the HMSB Training Centre to witness the final stage of the competition and prize giving ceremony which was officiated by Mr. Fujimoto himself. The winners of the respective categories are:
The winners of each category walked away with a rare opportunity to visit the Honda Collection Hall in Japan, while the first runner-up and second runner-up won laptops and desktop computers respectively. Consolation prizes winners were presented with Apple iPod Nano.
The Training Centre was the ideal location to hold the final stage of the challenge considering that the objective of the Tech Challenge 2007 is in line with the ethos of the Centre. It was established to ensure productive and skilled workforce among dealers by providing various activities using its extensive facilities to all HMSB dealers and employees.