On the sunny morning of March 20, 2007, thirty four journalists descended at the Sultan Mahmud Airport in Kuala Terengganu en route to Tg. Jara for the All New CR-V Exclusive Media Test Drive.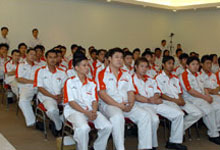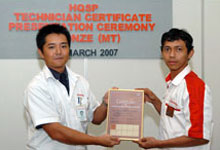 Petaling Jaya, Honda Malaysia, 22 March 2007 – A "Maintenance Technician certificate presentation ceremony" was held today by Honda Malaysia Shd Bhd to award HMSB dealer technicians who have successfully completed their Maintenance Training Programme. The event, which lasted for more than two hours, was attended by 43 diligent technicians who successfully completed the course.
A total of 66 attendees from Service Managers, dealer owners and other technicians were present as well.
The ceremony was officiated by a speech from Mr. Daisuke Suzuki, Head of Service Department followed by a certificate presentation with Bronze recognition to 43 graduates. Speaking during the ceremony, Mr. Daisuke Suzuki said "In order to survive in this challenging and rapidly changing market, it is vital for all technicians to be on par with our Honda Training in order to achieve No. 1 customer satisfaction."
The one week MT Programme was designed to develop Honda Qualified Certified Personnel (HQCP) to be in accordance with Honda worldwide quality standard. The objective is to achieve all–round customer satisfaction by developing technician skills and knowledge. The road to improvement does not end at the MT Programme. Eventual path for these technicians is to accomplish their repair technician training and finally move on to diagnosis technician training course which is part of the HMSB dealer service technician training. Upon completion of the final course, the candidates will receive silver and gold medal recognition.
Honda is constantly investing in such training programs to provide a continuous service to its customers. As new requirement demands are flooding the market, Honda is leaping ahead by sending its staff to these trainings to improve Honda's client's expectation management and strive to become No. 1 in customer satisfaction.