In the build-up to the excitement and raves on the Malaysian GP in Sepang, Honda Malaysia hosted a party at C18, Bangsar on April 4, 2007 to welcome the Honda Racing F1 Team and Super Aguri F1 Team. Cameras flash bulbs went off non-stop when CEO Nick Fry, drivers Jenson Button and Rubens Barrichello of Honda Racing F1 Team and Super Aguri F1 Team's Team Principal Aguri Suzuki, drivers Takuma Sato and Anthony Davidson entered the venue.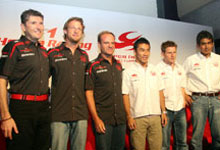 Getting the party on the road was a short video presentation on the history of Honda's essence and involvement in motorsports, and how its philosophy and challenging spirit have been deeply entrenched ever since Founder, Mr Soichiro Honda's first participation in motorsports.
Also present were Honda Malaysia's new Managing Director and Chief Executive Officer, Mr Atsushi Fujimoto and Honda Racing F1 Team's Senior Technical Director Mr Shuhei Nakamoto, who welcomed the crowd. Fry and Suzuki took to the mike to deliver words of appreciation to Honda supporters.
Besides the 150 members of media who thronged the venue, the party was also graced by Honda's business partners and dealers.
However, most notable of all are the 30 Honda customers who came as special Honda guests. They were selected from the Honda F1 contest which they participated. The presence of these lucky 30 customers is symbolic of the thoughts and efforts Honda put in to show appreciation to their customers at every possible opportunity. And making the event even more thrilling for these customers was a Customer-Exclusive lucky draw, in which 10 of them had their Grandstand tickets upgraded to Emerald seats.
To top it off, they also get to participate in a specially organized Pit Tour of the Honda Racing F1 Team's pit in Sepang this Sunday! Happy and excited squeals were heard echoing throughout the floor as their names were called.
Meanwhile, media, business partners and dealers received posters and Honda Racing Caps signed by the drivers themselves in a separate draw.
These premiums are merely a representation of the rich heritage that Honda has in motorsports. Motorsports is more than lifting the Championship title, it is also an arena to face and overcome challenges, to build team spirit and to develop technology that are unrivalled.
Despite the infamous KL-jam and overhung skies which heralded the night, the large turnout of media, business partners, dealers and specially-invited Honda customers was indeed an encouraging show of support to the Honda Racing F1 Team and Super Aguri F1 Team as they burn rubber at the Sepang International Circuit on Sunday.
Honda Malaysia wishes these teams all the best as they carry on the legacy of Honda's founder for without racing, there is no Honda. Racing and motor sports is in the core of Honda's DNA. It is Honda's reasons to exist.