In a display of commitment towards achieving No. 1 in Customer Satisfaction, Honda Malaysia treated 200 over customers with their partners to a specially organised Customer Preview Night in accordance with the launch of the All New Accord.
The night started off with celebrity emcee, Paula Malai Ali, welcoming the guests and introducing the Honda management team. She invited them to view a short video on the All New Accord. This was followed by a welcome speech by Managing Director and Chief Executive Officer of Honda Malaysia, Mr. Atsushi Fujimoto.
He welcomed the customers to the special event, which allows customers a first-hand look at the All New Accord, which was just launched in the morning before the local media. Mr. Fujimoto ended his speech by thanking the customers' loyal support, and shared Honda's pleasure for the opportunity to meet, greet and interact with them. He also hoped that they will enjoy the special stage musical presentation inspired by the 8th Generation Accord, and proceeded to present a screening of the sedan's television commercial.
The customers were impressed by the All New Accord, and most of them went up front to the display area to get a look at the different models of the new Accord at close range. Honda's Product Specialists were on hand to answer customers' queries about the new Accord's technical specifications and development concept.
The eighth generation Accord was definitely the topic of conversation even as the customers and Honda management team were helping themselves to dinner.
Ms. Vivian Soon & Mr. Tham Chee Wah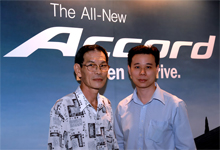 Mr. Michael Chan (right) & his father, Mr. Chan.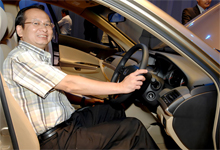 A customer testing the All-New Accord.
Honda customer Mr. Tham Chee Wah said that the All New Accord is value for money, "it is smooth and sleek, and all that I look for in a car". 7th Generation Accord owner, Mr. Damion Chee commented that: "The All New Accord is bigger, better, more refined, spacious and luxurious. It definitely has better presence"!
Mr. Michael Chan's first impression of the All New Accord is that it provides more cabin space, better practicality, and looks great -- very luxurious and elegant with a class of its own. "It has more features, totally upgraded and definitely more appealing than the 7th Gen Accord," he said.
"Honda is very reliable, gives good service and the parts are very reasonable. My father and I are Honda fans - we have had a long line of Honda cars from 2nd , 3rd , 5th , and to the 7th Generation Accords to Civic, Integra and Jazz," added Mr. Chan.
After dinner, the customers were invited to adjourn to Plenary Hall for the stage musical performance, entitled "No Limits", which was inspired by the All New Accord and created specially for Honda customers.
All in all, the Customer Preview Night took place smoothly and the guests in attendance were all excited about the arrival of the All New Accord.