In conjunction with ASIMO's road tour in Malaysia, Honda Malaysia took the opportunity to celebrate ASIMO's 8-year-old birthday at Honda Malaysia's Sales and Marketing Office in Petaling Jaya. Born on October 31st , 2000, ASIMO, which is the acronym for
Advanced Step in Innovative Mobility, is the world's first humanoid robot created by Honda.
Honda Malaysia's Managing Director and Chief Executive Officer, Mr. Atsushi Fujimoto, who was at the birthday celebration together with all the associates gave ASIMO a warm welcome and presented ASIMO a special "ASIMO cake". Everyone sang ASIMO the birthday tune and blow the cake together with him.
Mr Atsushi Fujimoto, Managing Director and Chief Executive Officer of Honda Malaysia wishes Happy Birthday to ASIMO.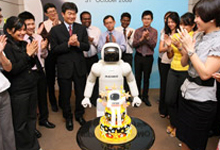 Mr Fujimoto and Honda associates sing ASIMO a Birthday song.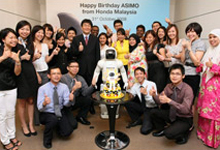 A group photo with ASIMO after celebration.
"We are pleased to have ASIMO here with us in Malaysia and it is coincidence on his birthday. This is indeed a great occasion for our associates to celebrate this memorable moment with ASIMO at the same time to witness themselves the dream that has become evident today. ASIMO's visit to our office has inspired all of us as he is the result of The Power of Dreams. I hope this inspiration will continue and reach out to Malaysians when he meets people around Malaysia," said Mr. Fujimoto.
One of the Honda Malaysia's associates, Kevin Lau, Product Planning Executive, who was also in the celebration said," Meeting ASIMO is like a dream come true for me! I have never thought of meeting him personally. Today, I felt so privileged to have the honour to witness ASIMO live, a dream that has become evident. The Challenging Spirit in the Honda engineers who developed ASIMO through the years is truly a source of inspiration to me to achieve my dreams."
Standing at 1.3 metres tall and weighs at 54 kilograms, ASIMO is the result of Honda's dream of creating an ideal robot that will one day assist people as Honda always strives to become a company that society wants to exist. It took Honda engineers 22 years of research and development, overcoming challenges, creating ASIMO to be what he is today. ASIMO today is able to run, grasp objects and recognise people, making ASIMO one step closer to one day ease people's life through mobility innovations.
ASIMO's visit this time around will be covering the whole of Peninsular Malaysia, including Klang Valley, Johor and Penang, in the month of November bringing Malaysians the message of hope and inspiration. Honda hopes that the demonstrations of ASIMO will be able to inspire Malaysians to realise and reach for their dreams.