Honda Malaysia clocked another mile on the scoreboard of J.D. Power Asia Pacific 2008 Malaysia Initial Quality Study (IQS) by claiming its title of the Best Entry Midsize Car with Honda City and the Best Midsize Car with Honda Civic.
City remains the guarding champion in the Entry Midsize Segment for 2 consecutive years while Civic is holding its head high for the 3rd year since 2006 in the Midsize Segment. The winning champions topped the scoring in Image, Product Quality, Product Styling and Performance, and finally Price/Value.
Pleasantly delighted with the accolade rewarded, Honda Malaysia Managing Director and Chief Executive Officer Mr. Atsushi Fujimoto remarked that J.D. Power could well be recognised as the third eye and ear for many organisations out there who are customer oriented.

Group Photo with the JD Power team.
"The in depth survey and analysis carried out by J.D. Power serves as a benchmark for us in understanding our customers' post purchase satisfaction. We strongly believe that the survey results only boost Honda's initiatives to exceed our customers' expectation in the quality of our products as we continue to strive in achieving Customer Satisfaction No. 1,"Mr. Fujimoto added further.
This year, the result is based on evaluation from approximately 3200 owners who purchased their new vehicle between September 2007 and May 2008. Vehicles evaluated included 52 passenger cars, pickups and utility vehicle across 15 different brands. Fieldwork for study was conducted from March to July 2008.The IQS is one of the three consumer-based studies that J.D. Power Asia Pacific conducts in Malaysia.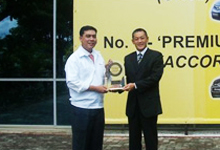 En. Azman Idris, President & COO of HMSB receiving the Best Midsize Car 2008 Award - Honda Civic from Mr.Taku Kimoto, General Manager, JD Power Asia Pacific.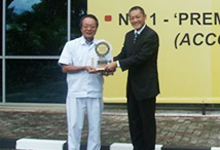 Mr.Ikuo Kanazawa, VP of HMSB receiving the Best Entry Midsize Car 2008 - Honda City from Mr.Taku Kimoto
Each year, J.D. Power and Associates surveys millions of consumers around the world to gather their opinions and expectations about the products and services they purchase. This information is used to compile rankings based on product quality, customer satisfaction, or other industry-specific metrics that gauge a company's performance.