Honda Malaysia Sdn. Bhd. recently participated in an environmental activity with a primary school in Melaka! Together with Sekolah Kebangsaan Parit Melana, Melaka, Honda associates helped plant trees, cleaned the school compound and beautify the school landscape in support of the school which will be representing Malacca state in the School Environmental Award in Malaysia - Sekolah Lestari.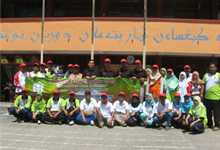 Honda Malaysia's associate planting a tree together.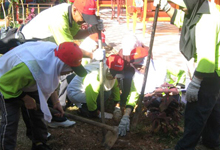 Encik Azman Idris, Tuan Haji Kasim B. Mohamad and Puan Safiah planting the trees at a selected garden in the school.
Group shot outside the school's office.
Themed "Protect Our Nature For Tomorrow", the Environment Day was attended by 250 people, including personnel from Alor Gajah Education Department, Tuan Haji Kasim B. Mohamad; Headmistress of Sekolah Kebangsaan Parit Melana, Pn. Safiah; President and Chief Operating Officer of Honda Malaysia, En. Azman Idris; Standard 4 to 5 students, teachers, members of JKKK and PIBG; Honda management and associates. Everyone got their hands dirty that day doing their part for the environment by planting trees!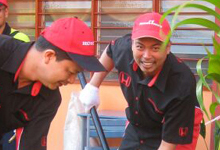 Encik Syahril giving talk on HMSB and environmental conservation to the school children.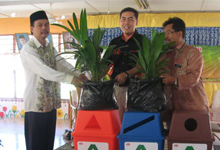 Encik Azhar, Encik Ainol from HMSB planting a tree together with Puan Safiah
Encik Azman Idris and Tuan Haji Kasim donating a plant to a school's representative.
Since 5th January 2009, 1500 trees, plants and shrubs have been planted at Sekolah Kebangsaan Parit Melana to make the school beautiful and green. Some of the plants are Ficus Nitida Gold, Tecoma and Canna in yellow and red.
Besides planting trees, students and guests were also presented with a talk by En. Syahril, Environmental Management Representative from Honda Malaysia. En Syahril shared about how Honda associates conserved the environment in the production plant by incorporating environmental friendly practices in their work. Besides that, an invited speaker from Honda Malaysia also gave a talk on environmental conservation and how we can help protect the environment by practicing 3R (recycle, reuse and reduce) habits in our daily lives.
In his speech, En. Azman Idris, President and Chief Operating Officer of Honda Malaysia congratulated S.K Parit Melana for being selected to represent Malacca in The School of Environmental Award. "We are pleased to be invited to participate in this school activity. It is a good effort for a school to make the effort to encourage our young generation to conserve the environment and show love to Mother Nature."
"As part of our commitment to environment conservation, Honda Malaysia was the first corporate to initiate rescue efforts for the Sumatran Rhinos in 2006. Honda Malaysia is pleased to sustain this meaningful programme through a 5-year commitment and partnership with WWF-Malaysia," he added.
The school activity ended with a presentation of recycling bins and trees to S.K Parit Melana and 5 other invited schools. Goodie bags containing Rhino stationery were also given to all the students who attended the talk.
Wherever it operates, Honda always strives to become a company that society wants to exist. This participation in the school's environment day activity is part of Honda's commitment towards the community of Alor Gajah Melaka, where Honda's production plant is located.